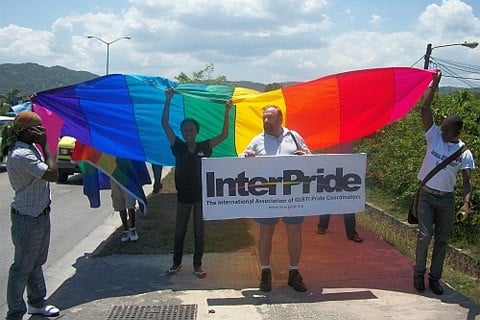 When you think that homophobic mob attacks have occurred in Jamaica's not-so-distant past when known gay people were spotted in public, it's pretty astonishing to actually see what's being called Jamaica's first Gay Pride march.
UK Gay News reports: "Officially, it was the Walk for Tolerance from Howard Cooke Park, along Howard Cooke Boulevard and ending on the beach.
'Yesterday was an amazing day, here in Montego Bay,' he told UK Gay News. 'My eyes well up at the very thought of the day's outstanding and astounding success.'
Encouragingly, the walk had police support, Mr. Urich added.
Around 100 took part in the walk, which was headed by Reverend Elder Nancy L. Wilson, the openly lesbian presiding bishop of the International Movement of Metropolitan Community Churches.
One participant commented: 'I never thought I would live to see the day that this could happen in Jamaica.'"