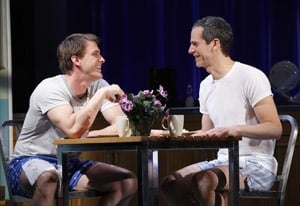 PB: I have had more girlfriends than boyfriends but I have certainly had boyfriends.
KS: So you're bisexual?
PB: Yeah. But I definitely identify as LGBT.
KS What's the Woody Allen line?
PB: It gives you 50 percent more of a chance for a date on Saturday night. Exactly.
KS: Another metaphor for this play — in a way — is that show business itself is the Born Again parent that you as an actor can't come out to just as Luke can't come out to his Born Again parents in the play. There are so many gay actors who aren't out because of the disapproval of The Business.
PB: Yep. And they're not wrong. It's unfortunate. This is the first time I'm ever talking about it.
KS: Because of the play and it's subject matter I think it's important to ask that question. It is a play about letting go of shame after all. I don't think there's anything wrong with asking that question because I don't think that being gay is an indictment as some people do — including people in the Obama White House if you judge their reaction to what has been written about Elena Kagan, whom they might appoint to the Supreme Court. They went ballistic when it was written she might be gay. They referred to it as a "charge." Well, I'm sorry. Such a reaction is just homophobia dressed up in nicer material. It's the same homophobic sweater the rightwing wears — it's just cashmere instead of acrylic.
PB: You're right. It's just a different style of homophobia. Same design different material. Bishop Gene Robinson came to the play last Tuesday and he did a Talk Back with the audience with us afterwards. By the way, as for myself I'm an ex-Catholic atheist with a spiritual side. That's the best way I can describe it. Here's an example of why I'm no longer a Catholic. I hope my mom doesn't mind my saying this. There came a period when she couldn't have more children because it was damaging to her. She had six pregnancies and only three children. The doctor suggested my mom and dad forego having anymore children. So may dad, who's a good Catholic, went and asked his priest what they should do. And the priest told him they should live like brother and sister – which they rejected without rejecting their faith.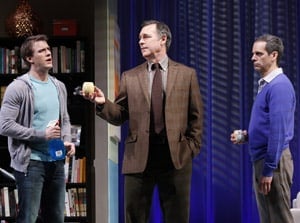 But back to Bishop Robinson and his own faith and how he sees himself as an instrument of God. He looks at what's going on in the world and sees incremental changes happening all around us — as an example, I guess, the fact that people are even mentioning Kagan's sexuality right now. He said he looks at it as part of God's work — the fact that such a discussion of anyone's sexuality is no longer as shrouded as it once was. He's going to California for the investiture of a lesbian woman as a bishop in the Episcopal Church. He had to wear a bullet proof vest at his own investiture. He's hopeful that she won't have to. Is that progress? I don't know. Maybe. So it's happening in incremental ways in lots of areas and as for this area that I am in — show business — we'll see how far we progress. When you write that I'm bi-sexual does that mean I can't play a dad on a television show anymore?
KS: Are you bi-sexual in the way that Elton John once was?
PB: I don't know what that means.
KS: He once said he was bi-sexual, I think, before coming all the way out of the closet. That in and of itself could also be seen as an incremental step, one toward admitting that one is really gay.
PB: I don't think so. I think I just fall in that weird point in the Kinsey scale. And I like that. I'll try anything once. My theory is find out who you like and what you like to do and then try to do it. I'm attracted to who I am attracted to — men, women. My head turns …. and … ah .. hmm … well, my head turns and what do I do?
KS: Not to be too Freudian about it.
PB: My head turns is Freudian?
KS: Your head — as in giving head, getting head, the head of your dick.
PB: (Laughing) Oh, my God. That's good. That's good.
KS: As a Sicilian/Irish boy raised Catholic on Staten Island is it more difficult for you to come out as a bi-sexual or an atheist?
PB: A bi-sexual.
KS: Are you in a relationship now with a man or a woman?
PB: I'm not with anyone right now.
KS: Well, this is on Towleroad so you may be in a week or so.
PB: Awesome. I'm open for it.
*****
Next Fall is playing at the Helen Hayes Theatre, 240 w. 44th Street, New York, NY. Ticket and show information HERE.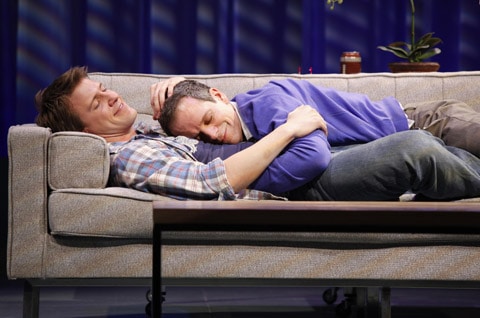 KEVIN SESSUMS
Kevin Sessums reviews theatre for Towleroad. In an exclusive interview, he talks to Next Fall's Patrick Breen about the show, and his sexuality, which Breen discusses here for the first time.
Patrick Breen is the emotional anchor of Geoffrey Nauffts's hit Broadway play, Next Fall, in which he stars as the atheist boyfriend of the Born Again Christian younger guy who prays for forgiveness each time they have sex. Nauffts play is a heartfelt comedy about redemption and how our differences as gay men are able to be bridged not only by a brittle wit but also an innate goodness. The production recently moved to Broadway after a sold-out run off-Broadway last spring and Elton John and his husband, David Furnish, came on-board as producers to give the production a bit of show-biz cache. Ben Brantley, in his New York Times review, called the play a "genuine rara avis, a smart, sensitive, utterly contemporary New York comedy."
Smart. Sensitive. Utterly contemporary. That could be an apt description of Breen himself, who is a half Sicilian/half Irish native of Staten Island. He is both a founding member of MCC theatre and Naked Angels, where Next Fall got its start. We met for tea last week on his way to the Helen Hayes Theatre where Next Fall is playing next door to Green Day's American Idiot at the St. James.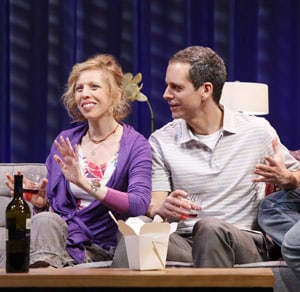 PATRICK BREEN: Yeah, we share a wall — the Helen Hayes and the St. James and they were very kind to us. Their sound designers came in with decibel meters in our theatre. They blasted stuff from their side and we couldn't hear a thing. They were so great to us. They didn't want to interfere with our show because our show is really quiet at times. So the first preview they had their show comes down at like quarter to ten and our is still going on. I'm in one of my quieter scenes and suddenly we hear screams from the street because Green Day was there. So they had soundproofed the wall well and put their woofers the right direction and stuff but you couldn't soundproof the girls screaming on the street. We were thinking, Are we going to hear that every night?
KEVIN SESSUMS: So do you have gay guys screaming outside of Next Fall?
PB: Yes, at the stage door and sometimes on the subway as well when they come up to me now.
KS: I'm so happy for Geoffrey Nauffts. I've known him for a long time and used to have such a crush on him.
PB: Me too. I even knew him in college at NYU and I'm 49 now. Then we were in Naked Angels together.
KS: Elton John coming in as a producer must have helped the move to Broadway.
PB: It helped a lot. He's been so good about publicity. He was on The View. He did Oprah today. His coming in was incredibly helpful because we're nobody. Just a bunch of off-Broadway actors. We don't have a big star. We don't have music. What we have to offer is a really good play. I've done three workshops of it. At one point out in LA Zachary Quinto played Luke, my boyfriend in the play.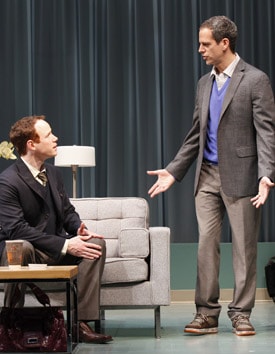 KS: Some people have a hard time believing that such different guys would be lovers – the age difference, the difference in belief systems. Is it just based on hot sex?
PB: Hmmmm … that could maybe last a year. The relationship lasts five years in the play. They love each other and establish some kind of ground rules of what they can and cannot talk about to make the relationship work.
KS: Even though Luke, the Christian role, is imbued with a kind of heightened shame in the play, your character, Adam, has a different kind of shame. More crippling in its way. He's chosen to love a shameful person — which is a form of shame that is even more insidious since he doesn't own it outright like Luke does.
PB: I think you're right. I think there is an inherent kernel of homophobia in Adam that unconsciously is being expressed through his relationship with Luke.
KS: I have no problem believing in the relationship. The only thing I have a problem with believing is that they sell candles in a candle shop in Manhattan and live in such a nice apartment.
PB: It looked smaller off-Broadway but how do you close the walls in for Broadway house and still suggest — which I think is really beautiful — the convention of the waiting room in the hospital becoming the apartment becoming the waiting room. That back and forth is really effective.
KS: What I find so moving about the play — without giving too much away — is that the things that Luke believes in and Adam rails against in the play are the things that finally help Adam come to terms with what happens to Luke. Adam is healed by Luke's beliefs even if they are not his own.
PB: I think what Geoffrey is trying to say is that love between two people — no matter what they believe in their crazy religions or non-religions and Adam's hypochondria and New Yorkiness is a kind of urban religion — is what matters.
KS: You said you used to have a crush on Geoffrey also. Are you gay or straight?
Continued, AFTER THE JUMP…