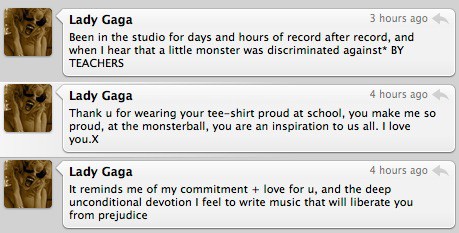 Yesterday I posted about Cole Goforth, who was sent home from school in Tennessee for wearing an "I 'Heart' Lady Gay Gay" T-shirt after school officials deemed it inappropriate.
Word of the news got back to Lady Gaga, who expressed support for the student on Twitter.

Goforth also left a note on Facebook: "My mom is also filing a formal complaint and hiring an attorney, it means alot that you guys are supporting this and bringing up the issue of discrimination, because no matter how hard people attempt to pull a cover over it….We're not blind to what is truly happening…An discrimination still remains an issue today.
Its time to truly do something about it, and not just sit down and shut up."