Raja Azmi Raja Sulaiman, the director of one of Malaysia's first gay and transgender-themed films, awaits the verdict from Malaysian government censors on "Dalam Botol", about how one partner's sex change affects a gay relationship, the AP reports.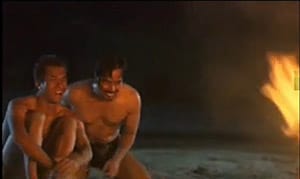 "Raja Azmi submitted a preliminary script last year to the Home Ministry's Film Censorship Board, which verbally approved it after advising her not to shoot scenes of men kissing or being in bed together.Censors also told her to change the original title: 'Anu Dalam Botol,' or 'Penis in a Bottle.'The film's two leads had trouble 'getting loose and comfortable in the first few days,' but they adjusted to their roles before filming ended earlier this year, Raja Azmi said.'We still shot scenes of skin-to-skin intimacy, with them hugging passionately,' she said. 'Without that, we wouldn't be able to show how much the characters really love each other.'Censors are unlikely to permit such scenes for Malaysian audiences, who are accustomed to bland, generic comedies and romances. Censorship board officials declined to comment until Raja Azmi submits the film to them."
Considering what Malaysian Film Producers' Association president Ahmad Puad Onah recently said about the new censorship guidelines, and what Raja Azmi said about it, the film could screen: "We are now allowed to show these scenes. As long as we portray good triumphing over evil and there is a lesson learnt in the film, such as from a gay (character) who turns into a (straight) man."
Said Raja Azmi of the film: "She stressed the movie was 'a nonfiction tragedy about my friend.'"
Watch the trailer, AFTER THE JUMP…