Jaroslaw Kaczynski, the outwardly homophobic but allegedly gay twin brother of late Polish President Lech Kaczynski, plans to run to replace him, the AP reports: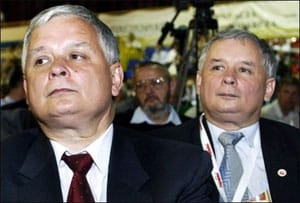 "Jaroslaw Kaczynski said he will run to continue the mission of his brother and others killed in the crash.
'The good of Poland is a common duty that requires an ability to overcome personal suffering, to undertake the task despite a personal tragedy,' Kaczynski said.
'This is why I have taken the decision to run for the president of Poland. I have the family's support in this decision.'"
Jaroslaw was outed by Polish media in October 2006.
Doug Ireland at Gay City News reported at the time, "Poland's second-most important newspaper, Rzeczpolita, published documents-some only recently declassified, and some that were leaked-from the files of the Polish Secret Service that discussed Prime Minister Kaczynski's homosexuality. As part of an investigation, begun in 1992, of right-wing political parties that, the documents said, 'could threaten democracy,' a Secret Service department then headed by Colonel Jan Lesiak reported, 'It is advisable to establish if Jaroslaw Kaczynski remains in a long-term homosexual relationship and, if so, who his partner is.'"
Kaczynski's homosexuality had been rumored since Lech Walesa made a comment 17 years ago on national television regarding the twins' arrival at his birthday party: "Lech came with his wife and Jaroslaw came with his husband." Not until the surfacing of the Secret Service documents did it become so public.
Added Ireland: "Prime Minister Kaczynski, 56, is a bachelor who still lives with his mother in a house filled with an extraordinarily large number of cats."
In April 2007, when he was Prime Minister, Jaroslaw responded to an EU resolution condemning Poland for drafting a law to fire teachers who "promoted homosexuality", saying:
Nobody is limiting gay rights in Poland. However, if we're talking about not having homosexual propaganda in Polish schools, I fully agree with those who feel this way. Such propaganda should not be in schools; it definitely doesn't serve youth well. It's not in the interest of any society to increase the number of homosexuals — that's obvious."