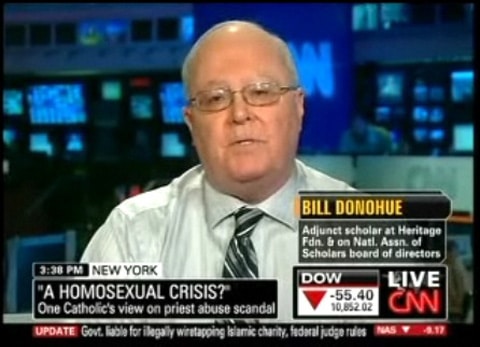 The Catholic League's Bill Donohue went on CNN to discuss the ad he took out in the NYT claiming that the Catholic clergy sexual abuse problem is a homosexual problem.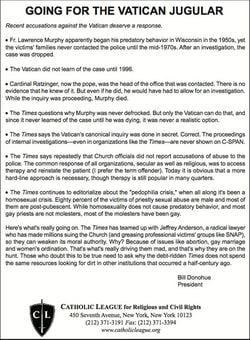 Said Donohue: "As I said in the ad, which I wrote, most gay priests are not molesters, but most of the molesters have been gay. And I also said, that there's no such thing as a — that homosexuality does not cause predatory behavior.Let me give you a quick example. I'm Irish. Everybody who has half a brain knows that the Irish have a bigger problem with alcoholism than the Italians or the Chinese, for example. Does that mean because you're an Irishman, therefore, you are driven to become an alcoholic? Of course, not.What it means, though, if your group is overrepresented in a particular problem area, you ought to explore it. Yes, there's a connection between Irish and alcoholism, and, yes, there's a connection between homosexuality and sexual abuse of minors."
Yesterday, GLAAD urged the media to ignore Donohue's anti-gay attacks.
Said Rashad Robinson, Senior Director of Media Programs at GLAAD: "It's telling that when media start taking a closer look at the recent revelations in the abuse crisis, Donohue instantly tries to change the subject by blaming the media and casting gay people as sexual predators. But Americans are getting sick of this ugly, vicious scapegoating. Donohue is feeding a hostile climate that gay people continue to face in this country. It's wrong, it's unacceptable, and no credible media outlet should be providing a platform for these kinds of attacks."
Watch, AFTER THE JUMP…