TEXT OF LETTER
Dear members of the community,
It is with great sadness and deep regret that I wish to inform our members of a tragic hate crime, apparently motivated by the victims' sexual orientation, involving four Miami University students . The events occurred in Oxford, Ohio, in/outside a bar directly adjacent to Miami's campus early on Saturday morning, April 17, and following the biannual charity drag show sponsored by our undergraduate LGBT organization. The drag show and the start of the events that followed both started at the Stadium, a popular bar among local students.
While in the restroom, a student who had been at the drag show overheard someone saying quite loudly a very pejorative and homophobic remark. The hate speech then continued and got markedly worse. The assailant confronted the student, and, as the student attempted to leave the restroom, shoved him into one of his friends. His boyfriend was then punched in the face, and the first person attacked was shoved to the ground. Another friend attempted to intervene at this point, and the escalation continued. As they tried to pull other friends and people away and out of the conflict, one person ran across the street to the police station for help (after the events continued outside the bar) while the other two followed the assailants. The assailants then gathered other friends and turned back on the victims, and that is when a group of four gay students were brutally and viciously attacked by a group of 10-15 unidentified assailants. One has a broken cheek bone, a broken nose, two black eyes, and other injuries. The others all have cuts, bruises, and swelling on their face and over the rest of their bodies. This at least according to the written account I received from the student who was the first to become involved.
Thankfully, the student most injured was released from the emergency room, and all of those who were victims are now safe and recovering.
Up to this point (some 4 days after all of this first transpired), there has been very little acknowledgment from the police or university about these events. The student newspaper only today finally had it listed on the fourth page, third in a list of other police reports that had been filed recently with the Oxford police. There was no mention whatsoever of the fact that the assault had been a hate crime, the attackers use of hate speech, or any details that would fairly convey the actual brutality and viciousness of the attack. In addition, no campus crime alert was issued, even though this is standard operating procedure for all sorts of burglary/assualts occurring on campus or in the Oxford community, and even though this is required in any such case per official university policy. Furthermore, a description of one of the attackers that had been available was only today made public in the student newspaper. No media or the local newspaper has reported what has happened as of yet to the best of my knowledge, and there is essentially no information or awareness about any of this outside the local LGBT community.
I and other concerned university and community members have been working to push the community and university to publicly acknowledge what has happened and to work with us and others to increase awareness and help to make sure that nothing like this ever happens here at Miami again. That said, there still has not been any official university public action, at least as far as I know, and the majority of campus remains uniformed as to what happened, and thus also unaware as to the potential threat or that the police are looking for the assailants that remain unidentified and at large.
If you would like to join me and others in expressing your concerns about what has happened and the current university response, then I encourage you to join me in writing letters to President Hodge at hodgedc@muohio.edu
Please keep members of the Miami and Oxford communities especially in your thoughts as we struggle to understand and deal with all that has happened and continue to work together to stop hate and prevent anything like this from ever happening here or anywhere else again. We really appreciate your support during this difficult time.
Edwin Shriver
Edwin R. Shriver, A.B.D.
Miami University
Department of Psychology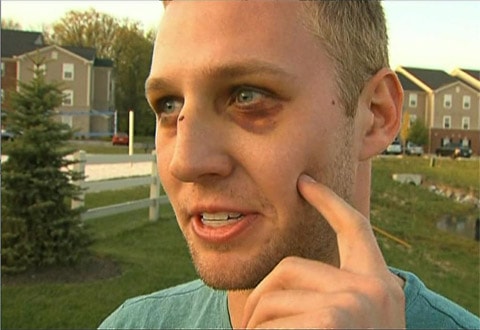 Students at Miami University are angry over an alleged hate crime that occurred during a drag show benefit at Stadium Bar and Grill in Oxford, thrown by the Miami University Queer/Straight Alliance to raise money for Operation Smile.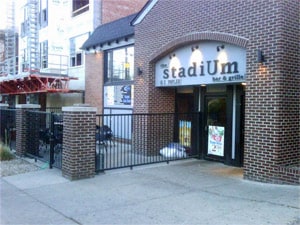 Miami University student Ben Collings was assaulted by another bar patron after he overheard the patron using anti-gay slurs in a restroom.
"Collings pointed out the event was in the upstairs portion of the StadiUm bar, required a secondary cover charge to enter, and the second floor restrooms were not accessible to those who were on the first floor. He says he overheard some saying, '[Expletives] do not belong in society'. 'Tensions escalate, I go to use the restroom, I get pushed, a fight breaks out in the restroom and it kinda filters outside, more people get involved,' said Collings. Collings said his boyfriend ran across the street to the Oxford Police Department to alert them to the attack while he followed the individuals where a fight ensued.Collings suffered a broken cheek bone, broken nose and receive two black eyes. After the fight, he was taken to the hospital for treatment and underwent numerous tests. He says his injuries may require reconstructive surgery. Oxford Police say it was Collings who initiated the fight, and so far, they have not labeled the crime as a 'hate incident' or 'hate crime,' but they continue to investigate.'I was assaulted because of my sexual orientation, if you want to define it as that – if you want to define it as assault, that's what it's going to be defined as,' said Collings.Collings also told 9News he believes if the incident involving him is not labeled a hate crime, he believes an attack on his boyfriend inside the bar is a hate crime."
Students say incidents like these have happened before and the police have not labeled them hate crimes. A vigil took place last night on campus.
Towleroad received a letter sent out by a professor at the university, which indicates that more students were involved.
I've posted it, AFTER THE JUMP…