It's satisfying to see a film that will surely hold appeal to family audiences, take such obvious time and pride in acknowledging the considerable gifts of a gay man in the shaping of our entertainment culture. The film includes an amazing pitch meeting for The Little Mermaid (a favorite film of mine) in which Ashman is clearly leading the creative team to exactly the head space he needs them to go. The even greater piggyback success of Beauty and The Beast is more bittersweet as the success follows Ashman's death from AIDS complications.
Waking Sleeping Beauty is currently playing in just four cities. More theaters to come presumably. The film might be trying to accomplish too much. It's a lot of ground to cover and you might frequently wish it had been conceived as a miniseries; Ashman's section alone begs for a full two hour treatment. But if you've ever been to Gay Days at a Disney theme park or sung along to any of the modern classics in your home, you owe it to yourself to check this out.
Also opening: Hollywood's gross new rip-off trend "Retrofitting" — that's when they force 3D onto movies shot in 2D so that they can charge 3D prices — continues with CLASH OF THE TITANS. So if you must see Sam Worthington in a skirt reenacting nostalgic movie moments, choose 2D.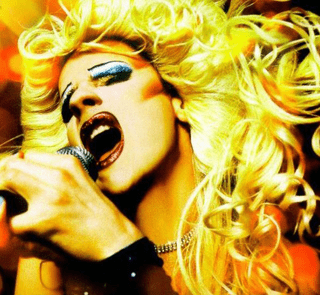 BONUS SCENES

John Cameron Mitchell, one of the most talented gays in the world (writing, acting, singing, directing *whew*), may well own 2010 when all is said and done. He's directing the stage-to-screen transfer of the award-winning  Rabbit Hole (Nicole Kidman takes over the lead reigns from Cynthia Nixon). It'll open late in the year with Oscar dreams in its eyes. At virtually the same time, Mitchell will bring his already classic trans-gendered rock musical Hedwig and the Angry Inch back to the stage. It's been a miraculous Off Broadway show, a Golden Globe nominated indie movie and now, a decade later, Hedwig will finally make it on Broadway. Mitchell will reprise his "slip of a girlie boy" role at age 47. He's already hit the gym but it probably helps that the Shortbus auteur has always had that boyish face. Plus, Hedwig wears a lot of make-up.

Did you see movie legends Debbie Reynolds and Cloris Leachman on RuPaul's Drag Race this week? I'm so proud of Ru for inviting them. Now if only she would invite other drag superstars as guest judges… wouldn't it be great to see Lypsinka or Jackie Beat? Speaking of Ms. Beat, her send up of a certain film classic reworked as "Whatever Happened to Busty Jane?" moves from Los Angeles to New York this May.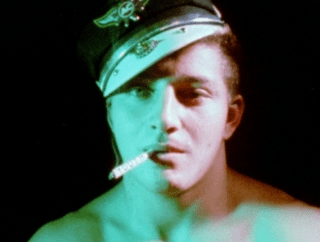 If you see more of your movies at home than in the theaters the new weekly batch of releases includes Oscar contenders (An Education) and blockbusters (Sherlock Holmes). More importantly, this weekend gives us a very real opportunity to get familiar with a seminal work of cinema that influenced everyone from David Lynch to Martin Scorsese. Kenneth Anger's "Magick Lantern Cycle" has been fully restored and re-released for home viewing. The collection includes homoerotic masterpieces Fireworks and Scorpio Rising and many more. Kenneth Anger is 83 now and a true gay pioneer. He was making queer cinema a full two decades before Gay Liberation.
Between Waking Sleeping Beauty's memorable tribute to Howard Ashman, the exciting John Cameron Mitchell news and this Kenneth Anger restoration, GLEE's recent promo with its gay positive joke "we make culture" seems even funnier and smarter. We do.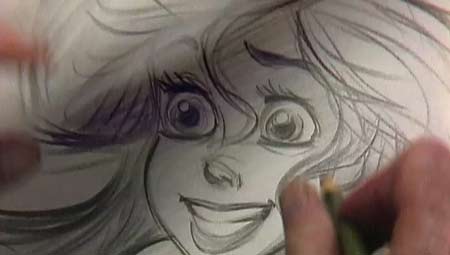 NATHANIEL ROGERS
…would live in the movie theater but for the poor internet reception. He blogs daily at the Film Experience.

YOUR FEATURE PRESENTATION
Though it might be hard for anyone under about 30 to contextualize, Disney was once in very real danger of losing its entertainment superpowers. You couldn't catch teenagers at animated films unless they were forced to go and the theme parks were essentially going the museum route, merely living off of past glories. WAKING SLEEPING BEAUTY, a dizzying study of a tumultuous decade in the life of Disney animation investigates how the studio went from its sleepwalking nadir (The Black Cauldron, 1985) to its joyous rebirth (The Little Mermaid, 1989) and world domination (The Lion King, 1994). 
This story is the stuff of showbiz legend. The film has super-powered egos battling for control (Jeffrey Katzenberg vs. Michael Eisner) unassuming but formidable heirs to a family throne (Roy Disney) and it's peppered with cameos from showbiz giants (Tim Burton appears in his gangly youth as an intern!). Waking Sleeping Beauty benefits enormously from its insider feel. The director Don Hahn shares abundant home movies shot on the job which lends the documentary an authentic you-are-there vibe. The clip heavy nature indicates that Disney gave it their blessing but for a film that's decidedly pro-Disney, there's a surprising amount of candor about their fumbles .
The most enjoyable and emotional section in the movie is undoubtedly the period from 1988-1991 when the late lyricist Howard Ashman (pictured below) arrives, spreading fairy dust on the animated film again. A "we can't believe this is happening!" giddiness settles over the animation department. 'They can fly, they can fly, they can fly.'
Continued AFTER THE JUMP…