I'll walk, thanks: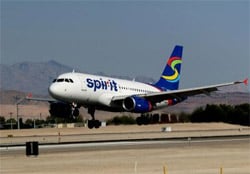 "Spirit is the first U.S. airline to charge passengers for carry-on luggage.
In addition to carry-on bags, the airline will continue to charge passengers $25 for a single checked bag and jack up the fee for a second checked bag to $45.
Spirit's Chief Operating Officer Ken McKenzie said the move will allow the airline to keep its ticket prices low.
A mid-April flight from LaGuardia to Freeport, Grand Bahama, costs $46 one way, only a dollar more than what the airline is poised to charge for a carry-on bag.
'Bring less; pay less. It's simple,' said McKenzie, adding that purses, briefcases and small bags that slip under seats remain free.
In a statement, the airline said the new fee will 'improve in-flight safety and efficiency by speeding up the boarding and deplaning process.'"