The most vocal Supreme Court objector to keeping private the names of those who signed petitions in Referendum 71? Justice Antonin Scalia.
The SCOTUS blog reports:


Justice Antonin Scalia, using history, sarcasm and political taunts, laid down a barrage of objections Wednesday to a plea that the Supreme Court create a new constitutional right of anonymity for individuals who sign petitions to get policy measures onto election ballots. When he was finished, the strong impression was that it might be exceedingly hard to gather a five-vote majority to establish such a right, even though the plea got the fervent support of Justice Samuel A. Alito, Jr., and some implied help from Chief Justice John G. Roberts, Jr. The oral argument was in John Doe # 1, et al., v. Reed, et al. (09-559).

Declaring that the rough-and-tumble of democracy is not for the faint-hearted, what Scalia referred to as the "touchy, feely" sensitivity of some political activists, the Justice said "you can't run a democracy" with political activity behind a First Amendment shroud. "You are asking us to enter into a whole new field," Scalia told James Bopp Jr., the lawyer for Washington State signers of an anti-gay rights petition. Politics, the Justice went on, "takes a certain amount of civic courage. The First Amendment does not protect you from civic discourse — or even from nasty phone calls."
Some other weigh-ins, via the AP: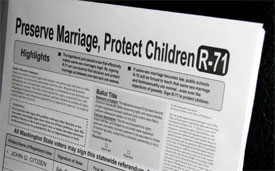 Justice Ruth Bader Ginsburg noted that while Project Marriage Washington says it wants to keep the petition names anonymous, organizers of petitions often make the names public themselves by selling the names to other organizations and using them for fundraising. "So that would be the end of a person's privacy," she said.

Chief Justice John Roberts compared signing a petition to voting, saying a person's vote might be chilled if it was revealed which candidate they voted for. McKenna argued that chill would be no more significant than it is for having campaign contributions or voter registration disclosed.

Justice John Paul Stevens, listening to his final arguments before retiring later this summer, said there might be a public interest in seeing the names on a referendum petition to "identify people who have a particular point of view on a public issue."

"And if you have the other point of view, don't you have an interest in finding out who you would like to convince to change their minds?" Stevens said.

But Justice Samuel Alito questioned McKenna on whether his office was willing to give out the home address of its lawyers so people could show up and have "uncomfortable conversations" with them about issues in which they disagree.