The Court of Appeals is set to hear oral arguments on April 21 in the same-sex divorce case of two gay men married in Massachusetts in 2006, and State Rep. Warren Chisum of Pampa and Agriculture Commissioner Todd Staples have filed a brief opposing it: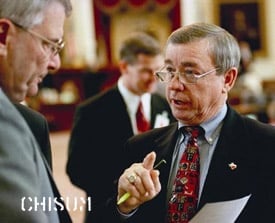 "In an interview this week with Dallas Voice, Chisum noted that he authored both the 2005 constitutional amendment and a 2003 statutory ban on same-sex marriage.
'I filed the brief just because I think it's my duty to defend what I got the rest of the members of the House and Senate to pass, and the governor to sign,' Chisum said. 'We're defending our actions as the legislative branch of government.'
Asked what legal remedy he would propose for J.B. and H.B., Chisum said, 'If they want to go back to their state, whatever state they came from, and get the marriage — or whatever they call it — dissolved there, that's OK with us, but it's not the state of Texas that needs to be doing it.'
Chisum added that he doesn't believe same-sex divorce is a civil rights issue, because being gay is a choice.
'Everyone has the ability to get married,' Chisum said. 'All they have to do is find someone of the opposite sex.'"
Dallas state District Judge Tena Callahan ruled that the couple could divorce in Texas in October 2009, saying the state's same-sex marriage ban violates the U.S. Constitution.
Just last week, in another Texas, gay divorce case, two lesbians were granted the right to divorce after Attorney General Greg Abbott's attempts to intervene were rejected.