As many expected, Supreme Court Justice John Paul Stevens will retire this summer. He made the announcement this morning.
The AP reports: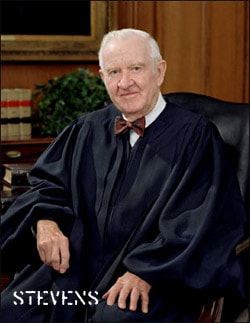 "Stevens said Friday he will step down when the court finishes its work for the summer in late June or early July. He said he hopes his successor is confirmed "well in advance of the commencement of the court's next term."
His announcement had been hinted at for months. It comes 11 days before his 90th birthday.
Stevens began signaling a possible retirement last summer when he hired just one of his usual complement of four law clerks for the next court term. He acknowledged in several interviews that he was contemplating stepping down and would certainly do so during Obama's presidency."
Who's on Obama's short list to fill the spot?
"Two of the three top contenders, Judge Diane Wood, 59, of the federal appeals court in Chicago and Solicitor General Elena Kagan, 49, were finalists last year when Obama chose Sonia Sotomayor to replace Justice David Souter.
Judge Merrick Garland, 57, of the federal appeals court in Washington, is a former high-ranking Justice Department official who is well respected and considered least likely to engender significant GOP opposition.
The three High Court prospects have different strengths and weaknesses. But even conservative activists say any of the three would likely win confirmation in a Senate in which Democrats control 59 seats. Yet Republican Sen. Jon Kyl of Arizona said Sunday he would not rule out delaying tactics if Obama nominates 'an overly ideological person.'"
More on Kagan here.