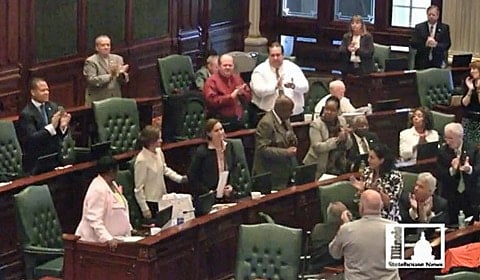 Yesterday I posted that Illinois Rep. Deb Mell would be announcing her engagement to her partner Christin Baker on the floor of the Illinois House. She did so.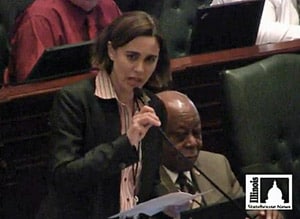 The Chicago Tribune reports:
"Mell, the daughter of Ald. Richard Mell, 33rd, and sister of former Illinois first lady Patti Blagojevich, put a spotlight on her personal life Wednesday in an effort to start changing the minds of her legislative colleagues. Joined by her partner of six years, Christin Baker, Mell said she likely will go to Iowa to state her vows.'I am aware that our governor and many of you on both sides of the aisle do not consider me equal to you and our relationship equal to the relationship you share with your spouse,' Mell, a Chicago Democrat, told her colleagues Wednesday. 'I think we are more alike than we are different.'Legislation to legalize civil unions passed a House committee nearly a year ago, but the sponsor, Rep. Greg Harris, D-Chicago, said he's still trying to muster the 60 votes needed to send it to the Senate.Illinois has been slow in approving gay rights measures — it took more than 30 years to win approval of a law outlawing discrimination against gays and lesbians by landlords, real estate agents, employers and lenders. Then- Gov. Rod Blagojevich, Mell's brother-in-law, signed that bill in 2005."
Only one Republican, Rep. Mark Beaubien, stood and applauded to acknowledge Mell's engagement.
Watch, AFTER THE JUMP…