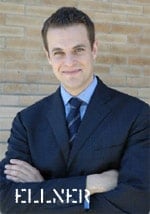 Brian Ellner withdrew his name as a candidate for executive director of ESPA, a day before he was set to go before the gay rights group's board for approval, amid criticism from LGBT advocates. Ellner was expected to be easily approved for the job.
The New York Times reports:
"Several influential gay advocates objected to Mr. Ellner's decision to take a job at the Board of Education under Mr. Bloomberg, whom they have never accepted as fully committed to their cause. While the mayor supports same-sex marriage, some advocates have not forgiven him for appealing a 2005 court decision that supported same-sex marriage and for backing Senate Republicans opposed to the unions."
"The advocates cited what they said was Mr. Ellner's criticism of the mayor in 2005, when Mr. Ellner ran for Manhattan borough president."
"Brian Ellner could not be trusted with the rights of L.G.B.T. people, when he has a history of taking care of Brian Ellner and securing employment at the expense of ideals," said Allen Roskoff, an advocate and the president of the Jim Owles Liberal Democratic Club, an influential group in gay politics. The club had threatened to cut ties with the Empire State Pride Agenda if it appointed Mr. Ellner."
Ellner's response to his withdrawal: "It didn't work out, and I wish them the best."