Very savagely. Jack Frew and a friend were attacked and slashed with a knife in Glasgow while walking home Thursday night. The Scotsman reports: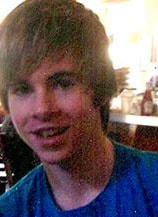 "The 16-year-old was stabbed on a cycle path in East Kilbride's Mossneuk area on Thursday night.
Frew, who stated his sexuality as "gay" on his MySpace profile, was a pupil at Duncanrig Secondary in East Kilbride and was described as a gifted actor who was well liked and respected in the school.
Another schoolboy is understood to have been hurt in the incident. Fellow pupils were told about the murder on Friday."
Frew died soon after the violent assault and the other victim, 17-year-old Craig Roy, remains hospitalized.
Police are still seeking a motive, but at least one news source claims that "it's been suggested this was a homophobic attack."