Students at the Harvey Milk Civil Rights Academy in San Francisco:
California Assembly Speaker John Perez reflects on the life and legacy of Harvey Milk:
Dustin Lance Black for Harvey Milk Day: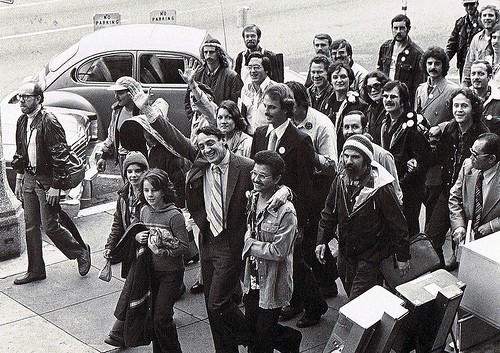 USA Today takes note of the Harvey Milk Day events taking place this weekend across the nation: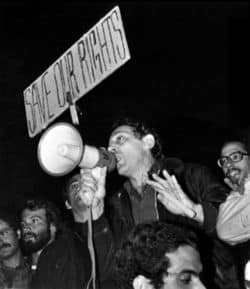 "California is the only state with an official Harvey Milk Day, but 26 cities in 20 states scattered nationwide will hold rallies and events to honor the first openly gay man to be elected to public office and icon of the gay-rights movement.'He knew you had to make change,' Galbraith says. 'Our community has to understand you have a voice, and if you don't use it, nothing will change.'Milk was elected to the San Francisco Board of Supervisors in 1977. He fought to end discrimination against gays and lesbians and built coalitions of gay-rights groups, labor unions and small-business owners. He was 48 when he was killed a year later by a former supervisor, Dan White. The Milk events come as gay-rights advocates are pressuring Congress to pass a bill that ends job discrimination against gay, lesbian, bisexual and transgender people and to repeal the military ban on gays and lesbians serving openly."
(Milk image at right by Jerry Pritikin)
The SF Chronicle reports that opponents of Harvey Milk Day are quiet as the date approaches, although California's Kern County has announced it's not taking part.
In the Bay Area, Nancy Pelosi will join Equality California and Mark Leno, Tom Ammiano, and Stuart Milk for a kick-off fundraiser at the San Francisco LGBT Community Center at 1800 Market Street from 6-7 pm on Friday night.
Saturday morning a rally will be held at the same place at 10am.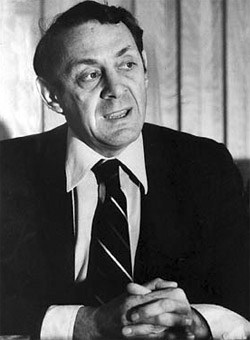 The Bay Area Reporter says the Castro is ready to celebrate:
"The celebrations begin with several breakfasts Saturday, May 22 – on what would have been Milk's 80th birthday – and culminate with a special screening of the Oscar-winning documentary on the celebrated gay politician's life and a special tea dance fundraiser Sunday night.Saturday afternoon, a new, larger plaque featuring Milk and one of his quotes will be unveiled in front of where he had his camera store and apartment on Castro Street. Speakers at the dedication ceremony will stand on a soapbox specially made for the unveiling.The Castro Theatre is offering a free screening of Milk , the Academy-Award winning movie about the gay rights hero Saturday morning. There will also be a family-friendly, mini street fair in front of the Harvey Milk Civil Rights Academy that day."
Some are calling SF's plans of observance "pathetic".
In Los Angeles, a rally and march will be held: "Saturday May 22nd, 3:00 pm – Father Serra Park – 123 Paseo De La Plaza – Los Angeles, 90012 (Between Union Station and Alvera Street)"
At least five events will mark Harvey Milk Day in San Diego – find out about them here.
FOR OTHER PARTS OF THE NATION, a  thorough list of Harvey Milk Day events (and there are many) can be found at Equality Across America.
NYC is planning a day of action for full federal equality beginning with a march that starts at 11:30 am near the Lesbian, Gay, Bisexual & Transgender Community Center:
"The march begins at the LGBT Center in Manhattan with rallies along the way including Union Square, St. Vincent's Hospital, Army Recruiting Center, MARRIAGE BUREAU and finally ending at City Hall."
The Gay and Lesbian Times interviewed Stuart Milk about his uncle's legacy.
I've posted a few videos AFTER THE JUMP…Students at the Harvey Milk Civil Rights Academy in San Francisco say Happy Birthday to Milk, California Assembly Speaker John Perez reflects on Milk's legacy, as does Dustin Lance Black.
Watch all the clips, AFTER THE JUMP…