Several years earlier, sitting in a Marine recruiting office, my recruiter asked me if I was gay. He had been trying to explain DADT to me and was frustrated by how long it was taking. He said it only mattered if I was gay, so he asked. It was the first time I was confronted with DADT, but it would not be the last.
When you ask a straight Marine if he is gay, he says no without hesitation. When you ask a gay Marine, he either lies or cites DADT and declines to answer. You can sacrifice your integrity or invite suspicion.
When I returned from Iraq, I had trouble adjusting to being home. Like many of my fellow Marines, I had trouble reconnecting to my friends and family. I did not know how to relate to my boyfriend. I had trouble being intimate, trouble sleeping, trouble expressing my feelings. Our relationship suffered.
I became depressed, and we grew apart. I could not seek counseling because my relationship with him was against the law. Talking to a counselor about my relationship would have resulted in my own discharge. I suffered alone and in silence.
When he finally left me, I was devastated. My other half – my partner through school, transfer, and deployment – was gone. After four years he had grown tired of living with the shades closed in the apartment, afraid that neighbors would see us sitting beside each other on the couch. My work suffered and my colleagues noticed a difference in me, yet I had no choice but to lie and cover it up, insisting that I was fine.
Every day, gay and lesbian service members suffer and our loved ones suffer. We are forced to lie to our brothers-in-arms and our units suffer. We lie about our relationships, and our families lie to protect us.
The law renders us second-class citizens by prohibiting us from having or forming relationships – the same type of relationships our straight counterparts form that are hailed as vital to the health and success of our Armed Forces.
While they have family housing, family counseling, family readiness officers, and key volunteers, we serve alone. We are denied access to services and support created specifically to help us with family issues and stress – much of which results from the very policy that prohibits us from seeking help in the first place.
The sacrifices gay and lesbian families make just to get through each day are more than most people can even fathom, and we do it in silence. I live every day with the knowledge that I could be fired simply for being honest about who I am. I lie about my loved ones and myself in order to survive.
Still, my sense of duty and patriotism drive me to serve despite the restrictions this law imposes on my family and me.
Please, Mr. President, work with Congress to end this discriminatory law.
Let me serve honestly, openly, and with integrity.
Semper Fidelis,
A U.S. Marine
(The writer is currently serving and unable to identify himself publicly.)
PREVIOUS LETTERS FROM THE FRONTLINE…

April 27 – Captain Joan Darrah
April 28 – LCpl Danny Hernandez
April 29 – An Active-Duty Military Chaplain
April 30 – Captain Rebecca H. Elliott
May 4 – Former Ssgt Anthony Loverde
May 5 – Former First Lieutenant Laura Slattery
May 6 – Former Staff Sergeant Anthony Moll
May 7 – Clifton Truman Daniel
May 10 – Former Sgt. Tracey L. Cooper-Harris
May 11 – Former Petty Officer 2nd Class, U. S. Navy Jason Knight
May 12 – Chief Hospital Corpsman Brian Humbles
May 13 – Former SSgt David Hall
May 14 – A Soldier Returning to Baghdad
May 17 – Former Sgt. Shonda Garrison
May 18 – A Mother in the Closet
May 19 – Former Sgt. Darren Manzella
May 20 – Former Cadet Sara Isaacson
"Stories from the Frontlines: Letters to President Barack Obama" is a new media campaign launched to underscore the urgent need for congressional action and presidential leadership at this critical point in the fight to repeal "Don't Ask, Don't Tell" (DADT).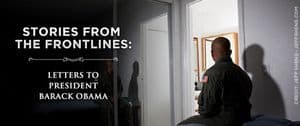 As we approach the markup of the Defense Authorization bill in the Senate and House Armed Services Committees, SLDN and a coalition of voices supporting repeal, will share open letters to the President from a person impacted by this discriminatory law. We are urging the President to include repeal in the Administration's defense budget recommendations, but also to voice his support as we work to muster the 15 critical votes needed on the Senate Armed Services Committee to include repeal. The Defense Authorization bill represents the best legislative vehicle to bring repeal to the president's desk. It also was the same vehicle used to pass DADT in 1993. By working together, we can help build momentum to get the votes! We ask that you forward and post these personal stories.
*****
May 21, 2010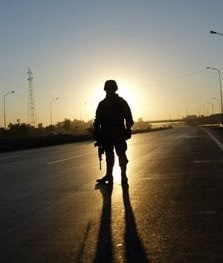 President Barack H. Obama
The White House
1600 Pennsylvania Avenue Northwest
Washington, DC 20500
Dear Mr. President,
On November 4, 2008, I spent the evening at the Democratic Headquarters of a small town. I watched anxiously as election results poured in from across the nation, nervous and hopeful that enough Americans had believed in the change you promised to bring.
Then it happened. The broadcaster announced that the network was declaring you the winner; the tears welled up in my eyes. Cheers erupted and I turned to hug the person standing closest to me, as we all did.
Balloons and confetti flew, and photographers began snapping pictures. One aimed his camera at me and I turned away. After another attempt, he asked if he could take my picture. I said no. I couldn't risk having my photo appear in a newspaper because I am a Marine, and the person in my arms was my boyfriend.
We had met nearly three years earlier while I was in Marine officer training. He was working in a clothing store near a bar I went to on the weekends. I wanted a reason to stay and talk to him, so I bought a pair of shoes I did not need. We went on our first date the next weekend, and the rest was history. I was later stationed across the country and we flew cross-country to see each other. When I found out I was being deployed, he came with my family to see me off.
It was my first deployment, and I had no idea what to expect. It is a strange feeling to say goodbye to someone you know you might never see again. When have you hugged enough? How do you know when to let go? How many times do you tell them you love them? How do you convince them everything will be fine when you are not sure it will be?
I looked at my mom and dad, my sister and nephews, and my boyfriend, trying to burn their images into my mind so I would not forget them.
As I looked around the parade deck and saw my fellow Marines kissing their wives and girlfriends goodbye, I felt crushed. I could not kiss my boyfriend of two years goodbye. Worse, he was afraid to even stand too close to me for fear of anyone getting the wrong idea. I was willing to risk it out of my love for him, but he – like the rest of my family – feared being responsible for doing or saying anything that could have jeopardized my career.
Continued, AFTER THE JUMP…