Ellen Chademana and Ignatius Muhambi, two activists with Zimbabwe's only gay rights group GALZ, were arrested on Friday in a raid in which police said they were looking for pornographic material and drugs. Lawyers for the two activists from Zimbabwe Lawyers for Human Rights (ZHLR) have been denied access.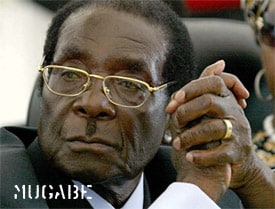 Said ZHLR: "ZLHR lawyers Dzimbabwe Chimbga and David Hofisi attended at Harare Central Police Station on Friday evening, but police remained adamant that the two Galz employees would be detained despite complaints from Chademana about her diabetic condition. On Saturday 22 May 2010 police refused to allow lawyers access to their clients.  It remains unclear what charges will be preferred against the two Galz employees but lawyers will continue to make attendances at Harare Central Police Station."
LGBT Asylum News reports: "They were arrested following the issuing of a search warrant by Chief Superintendent Peter Magwenzi for 'dangerous drugs and pornographic material'. Magwenzi has been involved in disappearances and extended illegal detentions of opposition MDC activists and of journalists.
Magwenzi has been implicated in torture by civil society activists. Terry Musona, an MDC activist abducted and held for four months last year who says she was tortured by him, said of her detention:
'Most of the days we were forced to sleep on a cold floor, hungry and blind folded. We were tortured, denied food and medical attention during our entire period of illegal detention.'"
The situation for gays in Zimbabwe is not good. In April, there were reports of widespread "corrective rape" in the country, and in late March President Robert Mugabe rejected calls to make gay rights a part of the country's new constitution, saying that homosexuality destroys nationhood.