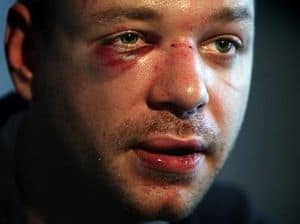 A gay man in Windsor, Ontario, was beaten, robbed and called anti-gay slurs during an attack yesterday. This comes days after a play about homophobia directed by the victim, Chris Rabideau, debuted in that city on International Day Against Homophobia. 
The Windsor Star reports:
They took his wallet, then brought him to his feet. Rabideau saidthe two men were talking to him and using homophobic slurs. "Of course,'faggot' and everything in between."

He tried to flee to hisapartment building, but they caught him in the lobby and assaulted himwith greater intensity, kicking him in the head when he was on thefloor.

After the attack, the two men "just calmly walked out of the building," McMillan said.

Rabideauhas come forward about the crime, saying it is an example to the publicthat violent homophobia exists in Windsor. "This is what it lookslike," he said.
Police have released a screenshot from footage of a security camera that captured the attack on videotape.