New numbers from Iowa reveal that there's strong out-of-state demand from gay couples to be married there, the Des Moines Register reports: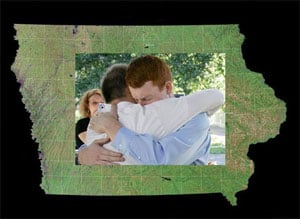 "Out-of-staters made up 60 percent of same-sex couples married in Iowa since the practice became legal in April 2009, state officials reported today.
A new report from the Iowa Department of Public Health says 2,020 same-sex marriages were recorded in the state from April 27, 2009, through March 31, 2010. Only 815 of the couples were from Iowa. The newly married included 199 gay couples from Illinois, 158 from Missouri and 111 from Nebraska.
Overall, 19,904 couples were married in Iowa during the time period. Of those, 2,020 were listed as 'same gender' couples, 16,869 were listed as 'opposite gender' and 1,015 were listed as 'not stated.'
Among gay couples getting married here, 728 were two men, and 1,292 were two women."