Kites has an unusual release strategy. Though it's just 130 minutes long (short for a Bollywood effort), it'll be released in a shorter version called Kites The Remix next week.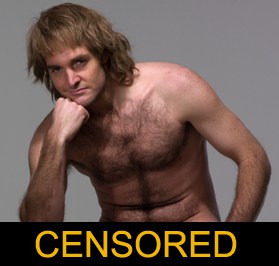 Also Opening
SHREK FOREVER AFTER promises to be the "final" chapter. But we've heard that before from several movie franchises. They're usually more like Cher's "farewell" tour. They keep going and going. The other big release and box office question mark is MACGRUBER ? Will Forte "the ultimate tool" is putting himself out to sell it including viral gags like a nude modeling gig [NSFW] and that grandma lust for Betty White on SNL. But the history of skits stretched out to features suggests that anything from well loved blockbuster to abject failure is possible. 
BONUS SCENE
Why is Jackie Beat channeling Bette Davis?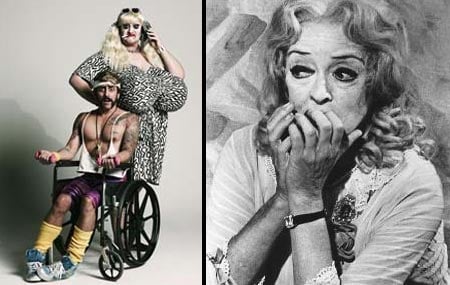 "Cuz it bugs ya"
Fans of both raunchy humor and the Grand Guignol classic Whatever Happened to Baby Jane (1962) should check out Jackie Beat in NYC this week performing her newish play Whatever Happened to Busty Jane? The incomparable drag star has reworked the Bette Davis vs. Joan Crawford showdown as a comic showcase for herself and frequent co-star and band-mate Mario Diaz. They've already taken it to LA & San Francisco. Who knows where it'll turn up next?
Paying campy homage to something as camp as Baby Jane might seem redundant but Jackie Beat is too smart for lazy spoofing. Jane and Blanche Hudson have become Jane and Branch Hardon, former porn stars wasting away in a "fabulous West Hollywood condo" that's trapped, like its has-been triple Xers, in the 80s. All of Baby Jane's big moments, quotes and tics are accountedfor in some way but Beat skillfully twists the content and delivery enough to keep you guessingabout just how, when and to what extent she'll deploy and destroy those narrative bombs. If you've ever seen this diva perform you know she works audiences like a mad psychic, humorously messing with that tiny gap in time before big laughter or the (expected) absence of it. Her reactions to your reactions are part of the joke. Even in this gothic hag incarnation, that clown glamour makeup continues to work absurd magic, providing its own cinematic closeup from the stage. I sat up front but I bet you can see every lip curl and grimace from the back row.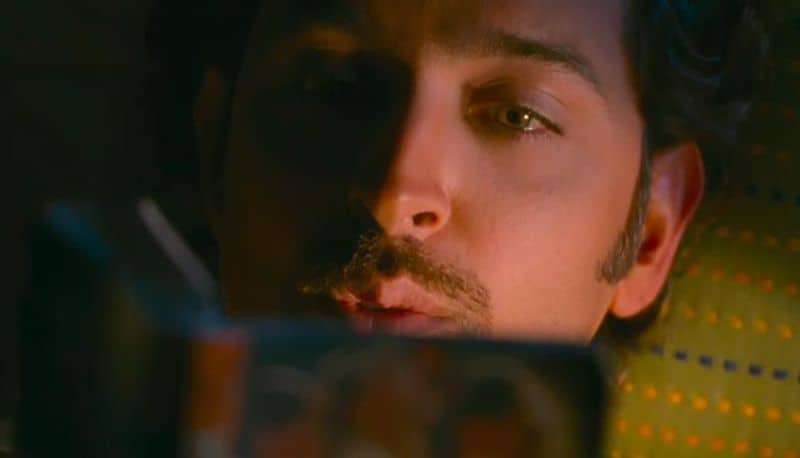 "Bonito" Hrithik Roshan learns Spanish words to describe himself in Kites

NATHANIEL ROGERS
…prefers air conditioned movie theaters to hot beaches in the summer. He blogs daily at the Film Experience.
YOUR FEATURE PRESENTATION
In a bid for international crossover appeal KITES stars Bollywood icon Hrithik Roshan and Mexican star Bárbara Mori, takes place in Las Vegas and churns through multiple genres like a shiny polyglot machine. Kites plays almost simultaneously in English, Spanish and Hindi with the actors serving as their own translators for each other (but mostly for you). It's the tale of a dangerous romance between a con artist (Roshan) and the upwardly mobile fiancée (Mori) of his fiancée's brother. Their respective spouses-to-be are the heirs of a bloody casino fortune. If the lovers are discovered they'll lose their human lottery tickets and maybe their lives.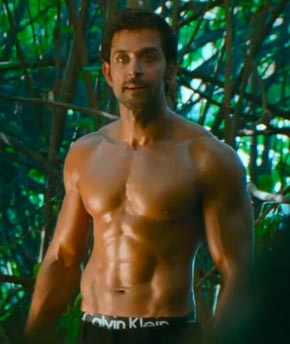 The initial dilemma is very Match Point but this is no Woody Allen film. There's no philosophy beyond the corny framing kites metaphor (love should fly free but someone's always pulling the strings!) and despite the trilingual dialogue there's very few important verbal cues. It's mostly bang bang action scenes (the kind where cars explode spectacularly the second they touch anything) and gooey lovers on the run melodrama. Kites' doomed gold-diggers can't understand each other's words so they communicate mostly through fawning, full lipped and wet eyed closeups like they're starring in a glossy commercial for genetic engineering or toothpaste.
Though Roshan only gets one dance number (Shame. He sure can move) his impossible body gets such loving camera attention and he poses so still and carefully for it that you might feel you're watching a camp classic — the first based on an old catalog! — International Male: The Movie.
MacGruber nude, Shrek neverending, and a Whatever Happened to Baby Jane spoof, AFTER THE JUMP…