The editors of Modern Tonic — a free daily email that serves up eclectic pop-culture picks with a homo slant — present a weekly music update here on Towleroad.



TODAYS FEATURED RELEASES: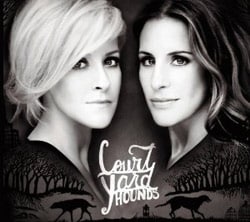 It's never easy to leave what you love behind — whether it's a partner or a popular country group. But that's what Martie Maguire and Emily Robison — two thirds of the Dixie Chicks — have gone and done. While lead singer Natalie Maines raises her children, Maguire and Robison have flown the coop for a side-project as steeped in folk-rock and upbeat pop as their fiddle-scratching roots.
Their self-titled debut, Court Yard Hounds, works the confessional tropes of songwriters like Joni Mitchell and Shawn Colvin to explore an unpleasant subject: Robison's divorce. Gentle, finger-picked acoustic opener "Skyline" sets the stage with the plaintive question 'What am I doing here in such a lonely place?' But Court Yard Hounds, like the group that spawned them, don't wallow in darkness. Maguire and Robison set sad tales to some of the most rollicking country-pop since Dixie Chicks' Grammy-winning Taking the Long Way.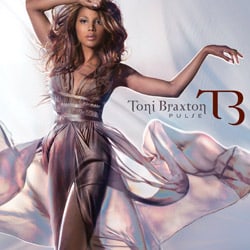 It's been 10 years since Toni Braxton's had a big commercial smash, and Pulse may put an end to the drought. She's already had a minor hit on the R&B charts with the mid-tempo, piano-heavy "Yesterday." She's been inspired by Alicia Keys on not only that song but also "Hands Tied" and "Wardrobe" and that's quite all right. It isn't often an established artist admits to being influenced by a younger one, with whom — according to Digital Spy — she hopes to duet in the near future. Elsewhere, Braxton lights up the club-burner "Make My Heart," pulls a Beyoncé with the galloping "Lookin' At Me" and revs up a quiet storm with her trademark ballads, including the empowering "Woman." "Revive it," she sings on the sultry title track, and though you know it's about holding on to love, it could just as easily be about this stage of her career.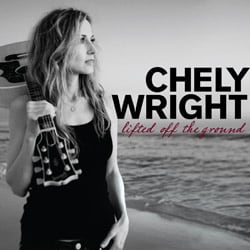 The blogosphere's a-twitter with country singer Chely Wright's coming out in the latest People (news of which leaked early). Wright won a Top New Female Vocalist American Country Music award (1994), scored a Country chart Number One with "Single White Female" and had been romantically linked with Brad Paisley. Now she's the first U.S. country star to burst through the closet door since kd lang in 1992. What's on the other side of the closet for Wright? Only time will tell, but her memoir's out today, Like Me: Confessions of a Heartland Country Singer, along with a new album, Lifted Off the Ground. If you want juicy details about her life, spring for the book. Music lovers will get a more restrained, emotionally nuanced report from the resonant Lifted Off the Ground. "I'm waging war up in my head," she confesses on the soft-rock opener "Broken." The object of "Damn Liar" — a blistering Appalachian foot-stomper — could well be herself after years of hiding. And the finger-picked waltz "Like Me" underscores the tough decision at its center. "Who's going to end up holding your hand," Wright asks, "a beautiful woman or a tall handsome man?" Thanks to our high-speed press, we all know the gender of her waltzing partner. We look forward to the day when all that matters is her rich, incisive music.

YouTube is soon expanding its pay-to-view capabilities, which would allow content providers to charge viewers to watch their videos.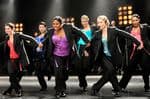 The massive success of Glee's Madonna episode and accompanying EP have stars clamoring to get involved with the super-hot series.

Apple recently bought, then shut down, popular music site Lala.com. Speculation suggests Apple will leverage the site's technology to create an iTunes cloud-based music service. But the music business may not be so happy about this.

Shakira announces 2010 tour dates, on sale this Friday.

Christina Aguilera will perform current single "Not Myself Tonight" at the 2010 MTV Movie Awards on June 6, two days before her album "Bionic" drops.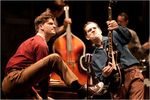 Out singer/songwriter Levi Kreis (on left in photo) was nominated today for a Best Supporting Actor in a Musical Tony Award for his role as Jerry Lee Lewis in Broadway's Million Dollar Quartet.

The first official soundtrack to Jersey Shore will be released July 20 (the same day as the season one DVD) with lead single, Enrique Iglesias' "I Like It" (featuring Pitbull) on iTunes May 25. Season two premieres July 29.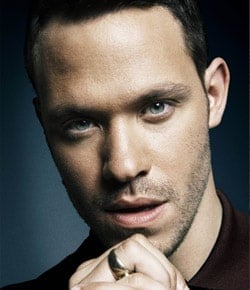 The out singer/first-season Pop Idol winner/hottie Will Young releases Leave Right Now, a digital-only EP of eight past U.K. hit singles. The collection is led by the title track, this season's American Idol exit song.
For those who couldn't get in to her exclusive club engagement last year, the CD/DVD set One Night Only Barbra Streisand and Quartet at The Village Vanguard September 26, 2009 will make you all — sniffle — verklempt.
Dolly Parton pays tribute to her favorite place – heaven, not Dollywood – on Letter to Heaven: Songs of Faith & Inspiration.
Broken Social Scene — the rotating Canadian collective that includes Feist, Emily Haines of Metric and others — releases their fourth and best batch of alt-rocking odes, Forgiveness Rock Record.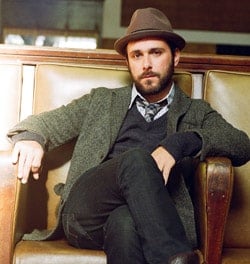 Husky-voiced San Diegan Greg Laswell — no stranger to soundtracks from Grey's Anatomy to My Sister's Keeper — releases Take A Bow, his fourth disc of brutally honest introspection.
Moby releases an EP of mixes of his single "Wait For Me" (the title track of his 2009 ambient album) in support of his forthcoming collection Wait For Me. Remixes! (out May 18), which features livelier versions of last year's album tracks.
Power chords and a cowbell open Stuck On Nothing, the debut from Philadelphia rockers Free Energy, finally out on CD today. That song — "Free Energy" — and the rest of the album, is a throwback to '70s AM radio gold.
Also released:  The New Pornographers — Together; The Hold Steady — Heaven Is Whenever; Deftones — Diamond Eyes; Josh Ritter — So Runs the World Away; a-ha — The Singles 1984-2004; Joy Formidable — A Balloon Called Moaning
Hurts — "Better Than Love"
The first single from the Manchester duo's forthcoming debut is a chilly Ultravox rip with a video straight from the head of Duran Duran. In other words: artsy, impenetrable and très stylish.
The Good Natured — "Your Body Is a Machine"
With hair even more awe-inspiring than La Roux's, U.K.'s The Good Natured (aka Sarah McIntosh) gets all Goth and glittery on this minor-key New Wave rave-up.
Operator Please — "Back and Forth"
On this happy little tune, the Aussie popsters make like The Smiths fronted by Betty Boop. Vocalist Amandah Wilkinson leads her quintet on a nautical-themed stage, while girls in blue bathing suits perform synchronized-swimming moves out of water.
Sub Focus — "Splash" (feat. Coco)
The spawn of Sting — Coco Sumner — guests on this twitchy tune from drums'n'bass producer Sub Focus (aka Nick Douwma). The clip's basically a performance in front of a Union Jack, but Coco's got Daddy's chops circa Ghost in the Machine.