In what Newsweek Culture Editor Marc Peyser calls "an effort to clear some smoke away from this fire" started by the Ramin Setoodeh article which said gays couldn't convincingly play straights, Peyser attempts to have a substantive discussion with GLAAD's Jarrett Barrios and screenwriter Dustin Lance Black about Hollywood and the closet.
Says Black: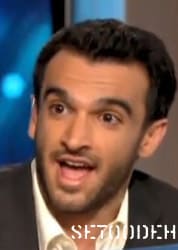 "Right now, in this atmosphere, [an A-list actor coming out is] something that would be difficult. And it is a challenge. When Jackie Robinson decided he was going to be the guy to step up and take on the challenge of being the first black player in the major leagues…there are many who could have done it before him. Was that easy? Of course not—that was a huge challenge. He had to suffer through the boos from the audience. He had to suffer through that and still perform well. And that's what this actor will have to do. This actor will have to suffer through articles like this in NEWSWEEK, these sorts of things being said that are negative. But I think in the end, what they'll be doing is paving this road toward equality in Hollywood where, yes, straight people can play gay roles and gay people can play straight roles. It will be work, but I think it's important that someone do it so in 10 years it's a given."
In related news…
Screenwriter Aaron Sorkin defends Ramin Setoodeh in the Huffington Post: "…with sincere respect to Ms. Chenoweth and the hundreds and hundreds of Internet posters who've crashed down on Setoodeh in the last few days — some understandably passionate and some unfortunately hostile — I don't think Setoodeh was being homophobic. Just wrong.
The problem doesn't have anything to do with sexual preference. The problem has everything to do with the fact that we know too much about each other and we care too much about what we know. In one short decade we have been reconditioned to be entertained by the most private areas of other people's lives."
Andrew Wallenstein of the Hollywood Reporter says Newsweek need not apologize to GLAAD:
"That an actor happens to be gay shouldn't define him or her. That's a wonderfully idealistic notion, but sexual orientation can distort a performance, and in more ways than one.
The first is that just knowing an actor is gay can color someone's perception of that actor's character. It's sad to say, but unrealistic to suggest everyone in the audience is as evolved as the next person. Just because GLAAD and its supporters wish that wasn't a possibility doesn't mean that if a writer points out that possibility, he's blasphemed.
The second way applies even if the viewer doesn't know whether the actor in question is gay or not. Politically incorrect as it might be to suggest, there is always the possibility that even the most brilliant closeted actor in the most incredibly scripted heterosexual role could fall short, especially in a romantic lead role.
As any producer knows, sexual chemistry onscreen is a delicate magic. Just because Rock Hudson was one such magician doesn't mean every gay actor can do same."