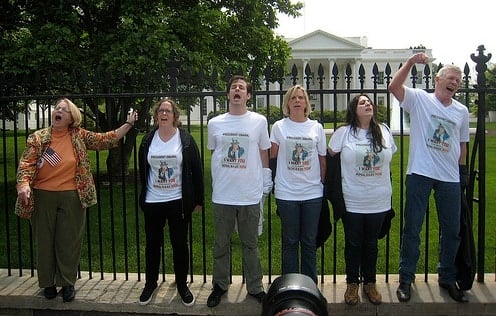 Over 100 people gathered in front of Lafayette Park by the White House to protest DADT. Six protesters handcuffed themselves to fence and were soon arrested and carted off to jail by U.S. Park Police. Get Equal confirms via Twitter that the six will spend the night in jail.
Get Equal reports the six were chanting "we will not, disappear. We'll remember, in November," when taken away by police.
The Dallas Voice reports that one arrested protester "was proud when they took him away! Even happier when they let him keep his cigarettes."
Among those in attendance were Lt. Dan Choi and James Pietrangelo who you recall were both arrested recently after chaining themselves to the same fence in protest.
From Metro Weekly: "As Choi was speaking to the crowd in Lafayette Park across Pennsylvania Avenue from the White House, six activists — Ann Tischer, Nora Camp, Alan Bounville, Natasha Dillon, Eiona DiBona & Mark Reed – wearing long-sleeved shirts to conceal their handcuffs, attached themselves to the same fence where Choi and Pietrangelo had been with four others two weeks ago."
Get Equal tweeted that Choi told the crowd: "President Obama, I would rather be a bugle for justice than a trumpet for your inaction."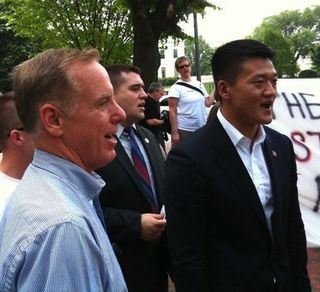 Howard Dean made a surprise appearance at the protest and took to the megaphone with strong words of support for the repeal of DADT: "The truth is Dan Choi is here. If Dan Choi were still translating Arabic, we'd just be another step ahead of the game. We can't afford to lose any talented people. To kick talented people out of the United States military because they happen to be gay or lesbian makes no sense at all."
He added:
"If somebody is brave enough to take a bullet for the United States of America, they ought to have equal rights under the law when they come home just like everybody else does.
Watch video of Dean's speech, AFTER THE JUMP.
In related news Washington Blade Editor Kevin Naff posed questions yesterday to White House official Brian Bond about the letter we heard about on Friday from Robert Gates.
When the letter came up during a panel discussion highlighting LGBT officials in the White House, Bond read the prepared White House statement on how Obama's commitment to repealing "Don't Ask, Don't Tell" is "unequivocal," but the president wants to wait on implementing repeal until the Pentagon completes its study of the law.

"If change were easy, we wouldn't be having to have this fight right now," Bond added. "I think that letter is a good example of how this is going to be a fight and a challenge."

In response to the statement, Naff noted the White House seems to rules out full repeal at this time but leaves the door open for legislation with delayed implementation, and asked whether repeal advocates can infer that the president supports repeal "as long as the implementation is delayed until after December."

Bond didn't say whether the White House supports such a move but said an endorsement of such a proposal is part of an "ongoing discussion."
(Dean Photo courtesy AMERICAblog)
Watch video of Dean's speech, AFTER THE JUMP.