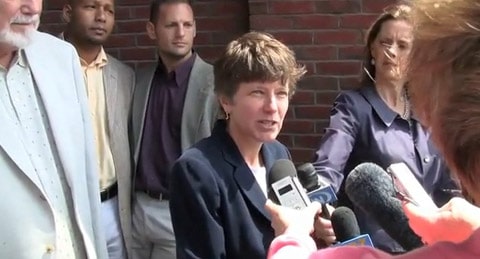 GLAD's Mary Bonauto challenged the Defense of Marriage Act (DOMA) yesterday in federal court in Boston.
Mary L. Bonauto, a lawyer for the Boston-based nonprofit Gay & Lesbian Advocates and Defenders, argued in US District Court that the federal government had always let states decide who was legally married until it passed the law in question.

****

W. Scott Simpson, a Justice Depart ment lawyer defending the government, countered that the Obama administration agrees that the federal law is discriminatory and supports its repeal. But Simpson said the department is obliged to follow the longstanding practice of defending federal laws signed by previous presidents as long as the statutes are constitutional, which, he contends, the Defense of Marriage Act is.

"This presidential administration disagrees with DOMA as a matter of policy and would like to see it repealed,'' he said, in a courtroom overflowing with supporters of gay marriage, including the 17 plaintiffs, who were allowed to sit in the jury box. "But that does not affect its constitutionality.''

Congress had a legitimate rationale to pass the federal law 14 years ago, he said, given that some states had begun discussing legalizing same-sex marriage. The statute, he said, preserved the status quo — marriage reserved strictly for heterosexuals — and prevented federal agencies from having to keep track of which states had legalized gay marriages and which had not.
Watch the (slightly difficult to hear) press conference, AFTER THE JUMP…