2010 06 15 Plaintiffs Responses to Courts Questions
Doc via Good As You. And here's the PDF if you're interested.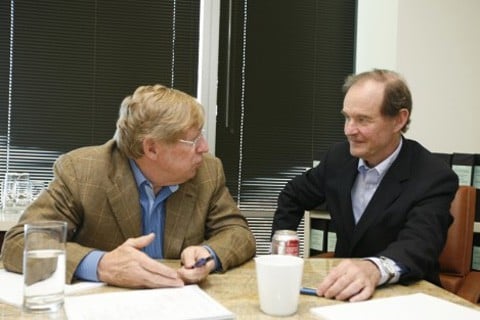 Olson and Boies, strategizing last night (photo by Diana Walker). 
In an aggressive final filing in the federal case which wraps up today, backers of Proposition 8 late yesterday asked Judge Vaughn Walker to revoke state recognition of the 18,000 same-sex marriages that took place while it was legal in California.
"Such an order would honor 'the expressed will of the people,' backers of the November 2008 ballot measure said Tuesday in their final written filing before Chief U.S. District Judge Vaughn Walker.Andrew Pugno, an attorney for Prop. 8's backers, said in an interview that the sponsors aren't asking Walker to nullify the 18,000 marriages, but only to rule that government agencies, courts and businesses no longer have to recognize the couples as married.Lawyers for two same-sex couples who sued to overturn Prop. 8, on the other hand, are asking Walker to lift the marriage ban permanently. The measure violates the constitutional guarantee of equality, they argued, and must be struck down 'regardless of its level of public support.'"
Here are some other items that should inform you on the closing day of the case:
Courage Campaign's Prop 8 Trial Tracker will be liveblogging HERE. FireDogLake will be liveblogging HERE.
And in case you're interested in what the opposition has to say, NOM's site is HERE.
Trial schedule (PDT):
10:00 AM – 11:30 AM Olson and Boies deliver closing argument
11:30 AM – 11:45 AM City and County of San Francisco take their turn
11:45 AM – 12:00 PM Governor, Attorney General and county defendants are up
12:00 PM – 1:00 PM Lunch/David Boies and Chad Griffin talk to the media
1:00 PM – 3:15 PM Proponents are on the hot seat (argued by Charles Cooper)
3:15 PM – 3:45 PM Plaintiffs' get a chance to make their rebuttal
4:00 Plaintiffs hold press conference on the day's events
Additional Items:

Courage Campaign's Rick Jacobs writes about the trial at Calitics: Olson & Boies Exorcise the Ghosts of Homophobia Past.

Activist Cleve Jones has launched a website, Testimony: Equality on Trial, which encourages people to reenact scenes from the trial on video so that they can be seen by all.

L.A. Times: Parenting should be non-issue in gay marriage debate.

And yesterday, the plaintiffs turned in their answers to a series of questions asked by the judge. You can read them all, AFTER THE JUMP…