Elton John's husband David Furnish spoke to People about Elton's invitation and acceptance to sing at Rush Limbaugh's wedding.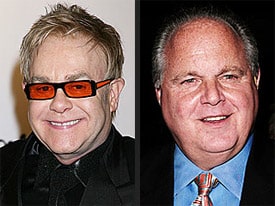 Said Furnish: "To put it in Elton's exact words, when he got the invitation, he was 'a little surprised…And then, when it turned out to be a genuinely sincere invitation … Elton said, 'Life is about building bridges, not walls.'…[John also saw it as another opportunity, in his words] to go where people wouldn't expect me to go. And maybe if I can make a great impression,' Furnish quoted him as saying, 'people might change their perspectives on life. [Rush and his bride] were incredibly gracious and very welcoming and very sweet and very appreciative. Elton, during the performance made a lot of cracks: 'I suppose you all wonder why I'm here tonight?' But ultimately, it's a bit like an olive branch, I guess. I wasn't there, but from everything Elton told me, he said Rush and his bride were incredibly charming and welcoming. And they have said they want to come and have dinner with us in England, if they pass through in their travels."
And, of course, there was also that million bucks.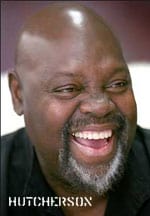 Meanwhile, Limbaugh was married by virulent homophobe and anti-gay activist Pastor Ken Hutcherson, the Seattle Weekly reports:
Limbaugh unintentionally explained his motivation for having an openly gay rock star play and a black preacher officiate this, his fourth wedding, on the first show after his ceremony:  "One of the guests came up to me the next morning in the hotel, we were having breakfast, 'You know, you just blow everybody away. Here you are married by an African-American preacher, you're serenaded by an openly gay popular music icon, and they say you're the bigot.'…And, meanwhile, the Hutch said, 'You know, these rings are a token, and there's three tokens up here 'cause I'm one of them.' (laughing) He said, 'I'm the only black guy here that hasn't been paid to be here,' which was not true. (laughing)"