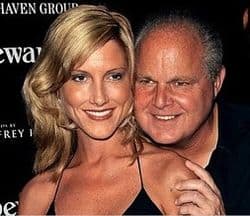 That's what several news outlets are reporting. The extravagant wedding (it's number four for Rush) is apparently taking place at this very moment at the Breakers hotel in Palm Beach.
The New York Daily News reports:
"The conservative firebrand, 59, will exchange vows Saturday in Florida with Kathryn Rogers – a blond bombshell half his age – in a lavish Hawaiian-themed wedding bash headlined by none-other-than Sir Elton John."
"It's an odd pairing considering El Rushbo's history of anti-gay commentary on his conservative radio show and the openly gay "Tiny Dancer" singer's longtime commitment to gay rights."
So why would John perform at Limbaugh's wedding? Well, he'll reportedly net a million bucks for doing his part in today's celebration.