Jake Gyllenhaal gets caffeinated in LA.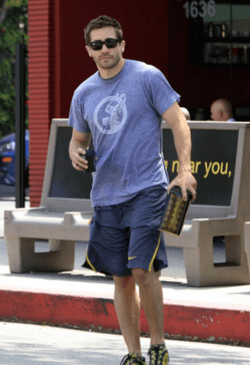 Andy Bell on experiencing his first dose of ageism: "I saw this guy, turns out he was 24, and I went up to him and said 'you are stunningly good-looking.' And he says, 'I thought you used to be good-looking when you were in Erasure.' And I thought, I still AM in Erasure. Then he went on to say that he really only likes to have sex with people his own age. I have never been an ageist person. My tastes are open to all men, I like all ages, all races, all kinds. I remember thinking is it me, and the fact that I am 45, or is the issue with this kid?"

Miley Cyrus promises you that she did not kiss a girl on Britain's Got Talent earlier this week.

Foot in mouth: Helen Thomas sorry for saying Jews should "get the hell out of Palestine" and "go back home to Poland, Germany, America and everywhere else."

Anna Paquin on coming out as bisexual earlier this year: "It wasn't like it was a big secret. It was just a cause I cared about
and privately supported, but not one that I had ever had an opportunity
to speak out about in a way that would be useful. Obviously I know that
one person's voice doesn't necessarily do that much, but I just wanted
to do my bit."

Gary Coleman's ex-wife turns to the camera asking for your help paying for his funeral.

One missing as avalanche strikes Mount Rainier.

NY Times columnist Charles Blows explains why heterosexual men are becoming increasingly accepting of gays. One theory: "Virulent homophobes are increasingly being exposed for engaging in homosexuality…In fact, there is a growing body of research that supports the notion that homophobia in some men could be a reaction to their own homosexual impulses. Many heterosexual men see this, and they don't want to be associated with it. It's like being antigay is becoming the old gay. Not cool."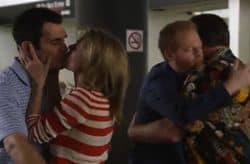 Ed O'Neill on the controversy surrounding the lack of affection between Modern Family's gay couple: "Oh, that's so stupid. Who cares? When I hear that, it's half amusing, half annoying. First of all, they're the most conservative family of the three. Mitchell is a lawyer, and Cameron is a stay-at-home mom with a baby."

The manager of a pub in London refused to serve gay group LGBT Labour.

Stolen trailer leads to a hate crime.

Watch 10 seconds from Twilight: Eclipse of Robert Pattinson and Taylor Lautner getting all confrontational with each other.