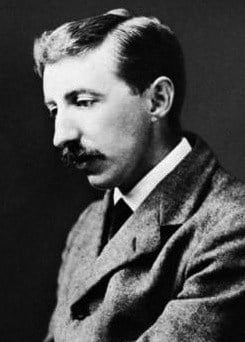 Writer E.M. Forster always knew he was gay but didn't have his first sexual experience until later in life – when he was 38 years old – years before he wrote the gay-themed novel Maurice. A new biography reveals that the relationships he forged replaced his desire to write and also reveal the recent discovery of a diary he kept that chronicled his sexual adventures.
The Times reports:
"Now Forster's papers, including his "sex diary", which had been locked away at his former lodgings at Cambridge University, indicate his creative drive was curbed after he lost his virginity to a wounded soldier on an Egyptian beach when he was 38 and met his long-term lover — a married policeman — several years later."
"The author felt he could not continue to write about the heterosexual, English middle-class themes with which he had made his name."
"'I should have been a more famous writer if I had written or rather published more, but sex prevented the latter,' Forster wrote."
Forster's diary also reveals that he apparently exclusively dated blue collar men. One entry, in part: "I want to love a strong young man of the lower classes and be loved by him and even hurt by him."