Former Minnesota Vikings player Esera Tuaolo, who came out as a gay man in 2002, was arrested in Minnesota last week for domestic assault and charged with three misdemeanors. Details of the altercation are few but the Pioneer Press sheds some light on the basics: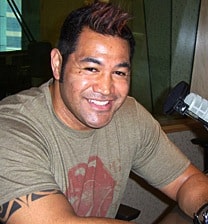 "According to the incident report, Ramsey County sheriff's deputies were dispatched at 5:45 p.m. Sunday on a report of a domestic assault. Tuaolo is accused of assaulting the person near the 300 block of County Road 96 in North Oaks. It is unclear who the alleged victim was.
Ramsey County sheriff's office spokeswoman Holli Drinkwine said the office would not release further details, and any additional information would have to go through the North Oaks city attorney charging the case. The city's prosecuting attorney could not be reached Friday.
According to court records in the case, a judge gave Tuaolo a domestic abuse-related no-contact order with the victim. Tuaolo was released on $2,000 bail Monday."
John Holler of the "Viking Update" asks a question related to the case: "If the case goes to trial, it will be interesting to see how the judicial process views a case of same-sex domestic violence. Since there aren't many high-profile same-sex domestic assault cases on the record, this could serve as something of a landmark case."
A court hearing for Tuaolo's case has been scheduled for August.