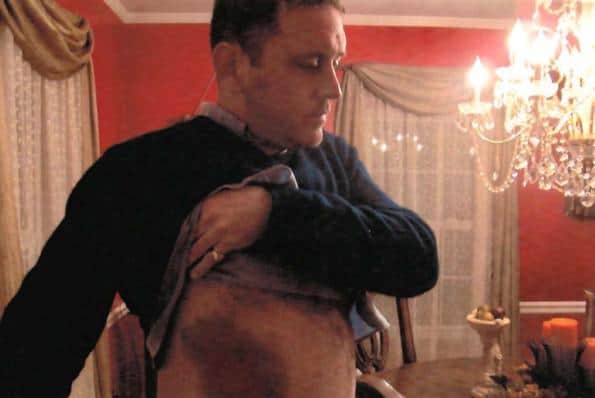 Timothy Michael Mazza has accused three Parkersburg, West Virginia police officers of kicking him in the ribs, grabbing him violently by the neck and also shouting homophobic slurs at him, such as "Now take that, you f–ing queer," during an incident in October of 2009. At the time, Mazaa himself was arrested for assault and battery on a police officer but those charges were later dismissed. Last week, he filed a lawsuit against the city related to the brutal beating, which he claims was unprovoked, that he received from the three police officers.
According to Mazza, officer M.W. Eichhorn seemed to be the most aggressive of the three. His scenario of the way things went down that night as witnessed by Mazza's partner Kevin Swearingen and printed in the Charelston Gazette which, if true, is disturbing.
Mazza said an officer – whom he now believes was Eichhorn – grabbed him by the neck and kicked him in the ribs. It was Eichhorn, he says, who then called him the gay slur. says he witnessed what happened.Swearingen "He wanted to go inside, and they yanked him back and threw him down on the deck," Swearingen said. Both men say the incident happened very fast, in 15 or 20 seconds.

Mazza said that as he lay on the ground, his side hurting from a broken rib, the officers were joking and laughing at him, making jokes with sexual innuendos. "One of them said, 'Look, he's going to go for your gun,'" Mazza said.

Swearingen said that after Mazza was kicked in the ribs, police put him on his feet and took him to jail. As they took Mazza away, Swearingen said, Mazza asked him to call his mother, which he did. "She asked me what he was being arrested for and I told her I didn't know," Swearingen said.

Mazza was arrested and charged with the two counts of battery on a police officer – the charges that were dismissed. Before he got in the cruiser and on the ride to the station, Mazza said, he did not speak to the officers, but that they continued to insult his homosexuality.

"One said, 'What, does the cat got your tongue, faggot?'" Mazza recalled.
Mazza's attorney: "It's my personal belief that because he identified himself as a homosexual early on in the discussion, their response to that was of the hate-crime variety."