Two gay rights groups, the Michigan Democratic Party's Lesbian, Gay, Bisexual, Transgender & Allies Caucus and another group called 'Lesbians Opposing Lesko', have chosen to endorse Mayor John Hieftje rather than his openly lesbian opponent Patricia Lesko, AnnArbor.com reports: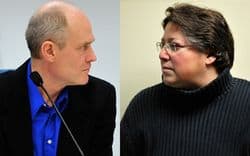 "Hieftje's lone challenger in the Aug. 3 Democratic primary is Patricia Lesko, who is married to her partner of 19 years, Marjorie Winkelman Lesko.
Lesko has come under fire recently for sharing false information with voters and for some of the controversial posts on her blog, A2Politico.com…In a letter dated Sunday, the LGBT group's candidate committee co-chairs, Duane Breijak and Michelle Brown, lauded Hieftje for his strong positions in support of LGBT rights…The group vowed in the letter to fight hard for Hieftje's victory in the upcoming primary and November general election to make Michigan a fairer, more equal state for all citizens."
The lesbian activist group deemed Lesko "'destructive and deceitful' and [said] she'd be a 'complete disaster' and 'downright embarrassing' as Ann Arbor's mayor.