A British rugby team has been fined £40,000 for homophobic chants directed at openly gay player Gareth Thomas.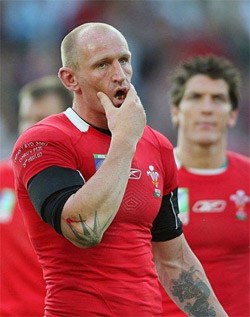 The Yorkshire Post reports:
"Castelford Tigers are thought to have become the first British professional sports club to be fined because fans shouted homophobic chants.
The West Yorkshire outfit have been served a £40,000 punishment by a Rugby Football League operational tribunal after being found guilty of misconduct during an Engage Super League fixture against Crusaders RL at The Jungle on March 26.
Some Castleford supporters aimed derogatory comments at Crusaders winger Gareth Thomas, the former Wales and British Lions captain who announced he was gay in December and was making only his second appearance since switching codes."
Said Thomas' manager Emanuele Palladino, in an official statement: 'Today has been an historic day. Gareth Thomas is all about delivering positive messages and positive changes, and to that end today was a huge step forward for Gareth and the world of sport. It is not about the fine, but rather recognition that this behaviour from a small section of the Castleford fans is not acceptable in 2010. Unfortunately what happened at Castleford could not be ignored. We are delighted that the RFL have taken action against what is a serious and upsetting incident for all parties. Their stance makes it clear that behaviour like this is not, and should not be acceptable in the world we live in today.'"
The Tigers are set to appeal the ruling after seeking legal advice.
Said the club's lawyer: "There was some chanting on the day, we agreed this with the tribunal panel. There were three incidents, lasting only a few moments, two of which were drowned out by public address announcements.  The club condemns any person who makes or chants obscene remarks towards players or officials.
But the charges against the club are not that there was any chanting, they are that the club failed to take its best best endeavours to prevent or stop any chanting. This the club refutes totally.  The club has a well-established system for dealing with chanting and could not have done any more on the day.  This season the club has been one of the most pro-active in Super League when it comes to promoting a family-friendly environment at the stadium, working hard all season to create an atmosphere within the stadium that is inclusive for all sections of the community."