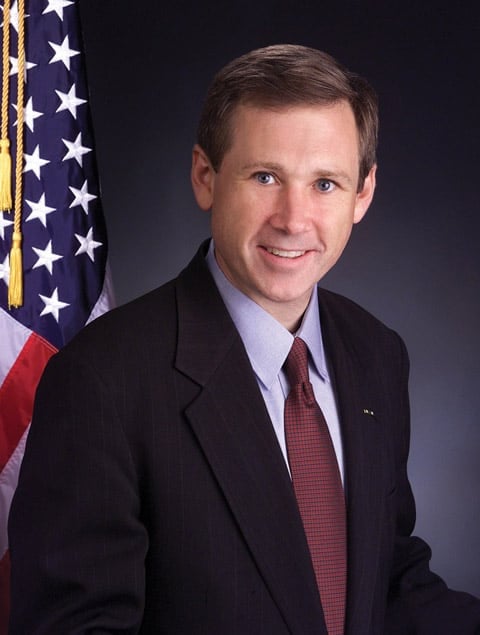 Mike Rogers, the blogger behind Blogactive who was featured prominently in the Kirby Dick documentary 'Outrage' for his role in outing closeted hypocritical politicians, has found a new target, Illinois Republican congressman Mark Kirk, whose "no" vote on the recent "Don't Ask, Don't Tell" repeal compromise is one hypocritical step too many in the wrong direction.
It's not as if Kirk's sexuality has not been discussed up to this point. Kirk is running against Democrat Alexi Giannoulias in the Illinois senate race for Barack Obama's old seat. In the Republican primary in December, Kirk was the target of a radio ad from his primary opponent Andy Martin which alleged that he had a "solid rumor" that Kirk is gay.
Responding to that ad, Kirk publicly denied he is gay in early January — video HERE.
Rogers digs a bit deeper and brings out a few additional items, saying that Kirk basically outed himself to Rogers at a party, expressing interest in another gentleman who was there:
Within hours of the DADT repeal vote I was contacted by two people who knew Kirk from his college days.

"In law school in DC everyone knew Mark was gay," the first source told me. I explained that the information was intriguing, it would not be enough to go on. He continued, "But I had sex with him a number of times." Well, now we're onto something I thought. "Could someone verify for me that you knew Kirk and went to school with him?" I asked. "Yes" was the swift reply. "Could you recall personal details about Kirk that others may not know?" "Yes," he said.

And he did.

The next source claimed to have gone to undergraduate school with Kirk. I asked for proof that he and Kirk were in school together and once that was shared with me, I met with the source. The source introduced me to a man whom had also been friends with Kirk college. They both shared with me their interactions with Kirk, including one sexual in nature. The source who claimed to have sex with Kirk described personal details about the House, um, er, "member." The description was the same as the first source.

And in DC, Kirk wasn't all THAT closeted. You see Mark Kirk told me he was gay. Before I had BlogActive, I had a life in Washington. As a fundraiser I raised major gifts from $5,000 to over $1,000,000… You don't do that kind of work at a keyboard, you do it at events with attended by people with money. The movers and shakers and their friends.

It was early 2004 when I was at a social gathering on Capitol Hill. I'm guessing there were 35-40 people present, including the guy who brought me as his guest. While the party was no means a "gay" party, I'd guess that of the men at least 75% were overtly gay. The others present were either straight men or their women friends.

It was at that party that I met Mark Kirk. I was introduced to him by the person I came with and at the time did not realize he was a member of the House. As my friend walked away, Kirk asked me if the man who introduced us was "single or attached." When I said that he had a partner Kirk replied disappointingly, "oh, well." At the end of that interaction I walked away and didn't think much of it at the time.
Why did Rogers choose to go after Kirk now? "Now, for the first time in his congressional career, Mark Kirk really had the chance to stand up and do what is right with the power of a vote. When I heard that five GOPers voted to lift the Don't Ask Don't Tell ban I instinctively though Kirk would be one of them."
Read Rogers' whole post here.
In related news, Kirk was recently caught in a lie about an award he had received from the U.S. military: 
"The Republican candidate for President Obama's old Senate seat inaccurately claimed to have received the U.S. Navy's Intelligence Officer of the Year award for service during NATO's conflict with Serbia in the late 1990s.
Rep. Mark Kirk, a Navy reservist elected to Congress in 2001, acknowledged the error in his official biography after The Washington Post began looking into whether he had received the prestigious award, which is given by top Navy officials to a single individual annually. The Post's inquiries were sparked by complaints from a representative of state Treasurer Alexi Giannoulias, Kirk's Democratic opponent in the Illinois Senate race."
Kirk, in the past has been lauded by the Human Rights Campaign as a sort of gay-friendly Republican, receiving a 75% rating from them in their latest report. However, folllowing Kirk's vote on DADT on Friday, HRC went ahead and endorsed his opponent, Democrat Alexi Giannoulias.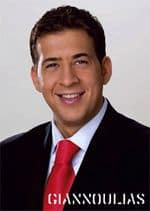 Said HRC President Joe Solmonese: "Alexi Giannoulias is the progressive leader Illinois needs," said HRC President Joe Solmonese. "He will be a strong advocate in the U.S. Senate to ensure that all of his constituents are accepted and welcomed as part of the American family."
You may recall that Towleroad ran a video interview with Giannoulias in which Corey Johnson asked Giannoulias if he felt that a candidate's sexuality is fair game.
Said Giannoulias: "Here's someone who has said he is against the repeal of DADT, is against the repeal of DOMA, and he doesn't believe in same-sex marriage and I just believe that flies in the face of what our important issues are…it doesn't make sense to me.
Watch our interview with Giannoulias here.