The National Organization for Marriage (NOM) has asked Maine's ethics commission to end its investigation of NOM's fundraising tactics, the Kennebec Journal reports: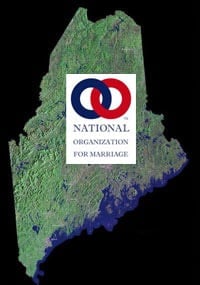 "The group believes the commission does not have the authority to conduct the investigation, said Barry Bostrom, an attorney with the Indiana law firm Bopp, Coleson & Bostrom…NOM has sued the state in federal and state court. On June 10, Kennebec County Superior Court Justice Donald Marden granted a stay to NOM that prevents the ethics commission from continuing with the investigation until another court hearing can be held, said Kate Simmons, spokeswoman for the Maine Office of the Attorney General.
Because of numerous court actions, the state hasn't been able to complete the discovery phase of the investigation, she said.
'This is just to set the rules to play the football game,' Simmons said.
The state wants the names of donors so it can determine how the money was raised for the election, she said. That's the only way to find out if the National Organization for Marriage followed Maine law, she said.
Jonathan Wayne, executive director of the Maine Commission on Governmental Ethics and Election Practices, recommended in writing that the commission reject NOM's request for dismissal.
He believes that Maine law 'clearly authorizes an investigation into whether the raising or spending of funds on a ballot question campaign by a particular entity such as NOM means it must register and file as a (ballot question committee.)'"