NYC Council Speaker Christine Quinn is pushing for the city clerk to be forced to tell couples applying for domestic partnerships about other states and countries where their options include marriage.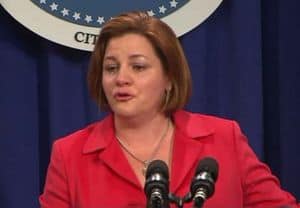 The NYDN reports:
"Quinn hopes her plan nudges state lawmakers into legalizing gay nuptials.
'It think it will speak volumes about the inequality in our state,' said Quinn. 'And the need for our state Senate to follow the lead of other states.'
The clerk's office began performing weddinglike domestic partnership ceremonies this month."
Previously…
Watch: Christine Quinn Weeps at Presser After Marriage Decision [tr]