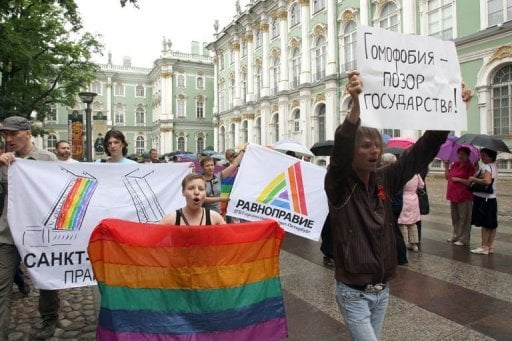 After two successful "flash" Pride parades in Moscow last month, gay rights activists in Russia attempted another secretive peaceful protest today, this time in front of the State Hermitage Museum in St. Petersburg. Unfortunately, police intervened.
The AP reports:
Two dozens activists unfurled banners and chanted "Homophobia the
shame of the country" and "Marriage rights without compromises" before
police moved in and seizing six people, who offered little resistance. 
The
rally was not announced in advance, but media were tipped off. Gay
rights in Russia are poorly observed, with police often violently
dispersing demonstrators and allowing attacks on them to go unpunished.

"This
is outrageous that police stopped us and they didn't give us a chance
to speak about the violation of our rights," said Nikolai Alexeyev, the
leader of Russia's beleaguered gay rights movement, after the rally.

The
rally in the courtyard known as the Hermitage Garden was not
well-received by visitors to the museum, one of the world's oldest that
was founded in 1764 by Catherine the Great.

"Everyone has the
right to protect his rights if there is any violation by the state,"
said Igor Bazilyevsky, 28, an office manager. "At the same time there
are other groups whose rights are violated, for instance Armenians or
Jews, but they don't go to such rallies."

Another visitor, an
accountant who would only give her first name, Natalya, said: "I don't
want to see these people here. I came here to see the sights, not to
look at these idiots."
Also, according to the AFP news agency, anti-gay protesters, armed with weapons, showed up at the museum but were arrested for "hooliganism."