The Rise of GetEQUAL.

Politico's Ben Smith profiles SLDN executive director Aubrey Sarvis, 'Don't Ask Deal's Unlikely Activist'…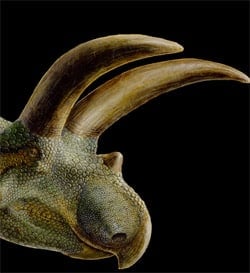 Recently-discovered dinosaur was extremely horny…

Jeremy Piven is a waxing fanatic.

Texans hold "Don't Ask, Don't Tell" protest outside Fort Hood: "More than two dozen people from all over Central Texas held up signs that read 'Gay or straight, all are heroes' and 'Stop unjust discharge of gays and lesbians.'
Organizers say they gathered there not only to honor gay and lesbian soldiers who have served and died, but to show their support for gay and lesbian soldiers who are currently serving as well.
'They can't reach out to us. They can't be out to tell us. We have to reach out to them,' organizer Irene Andrews said."

Ted Koppel's son found dead after daylong drinking binge.

Senate confirms Laura Duffy as U.S. Attorney for the Southern District of California in San Diego: "Duffy, an out lesbian, is known for her successful efforts fighting drug cartels that operate on the U.S.-Mexican border. Her prosecution of Tijuana's Arellano Felix cartel resulted in a life sentence for its leader, a notorious drug kingpin."

Puerto Rican activist Pedro Julio Serrano has cancer biopsy.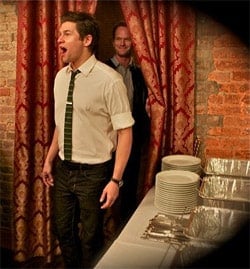 Neil Patrick Harris threw a surprise party for David Burtka in NYC.

The artist is no longer present: Performance Marina Abramovic finishes sitting at the MOMA.

Is the real Atlantis beneath the isle of Santorini in Greece?

New Hampshire to celebrate first anniversary of marriage equality: "New Hampshire Stonewall Democrats are celebrating the one-year anniversary of Gov. John Lynch signing gay marriage into law.
The group and other supporters will celebrate Tuesday in Concord. Lynch signed the law a year ago this coming Thursday… Senate President Sylvia Larsen, House Speaker Terie Norelli and other legislative leaders are expected to attend as is Democratic Congressman Paul Hodes.
The celebration will be a 105 N. State St. at 6 p.m."

Backpacker shoots Grizzly with handgun in Denali National Park.

Ellen and Portia spend Memorial Day in Mexico.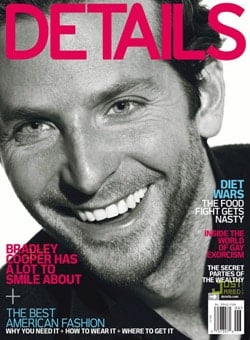 Bradley Cooper does Details.

The NYT looks at the vetting of priests by the Catholic Church: "Beyond his assertion that 'I know it when I see it,' no one interviewed for this article was able to describe exactly how screeners or seminary directors determine whether someone's sexual orientation defines him. Some Catholics have expressed fear that such vagueness leads to bias and arbitrariness. .. 'And not the least irony here," he added, 'is that these new regulations are being enforced in many cases by seminary directors who are themselves gay.'"

A League of Their Own inspiration dies.

Male model fix: Bruno Rosendo.

David Silver is looking good.

Sweden named Europe's most pro-gay country.

Britain's youngest mayor is a gay man: "Apart from their red robes and gold bling, mayors are known primarily for their venerable age. But Retford, in Nottinghamshire, has taken the radical step of appointing the youngest mayor in the country, 23-year-old Ian Campbell.
Campbell was this month elected as a Labour district councillor for Bassetlaw, beating his Conservative rival by just 15 votes. Surprisingly, the Conservative-controlled council then nominated and voted Campbell to be mayor for the year…Campbell rose to prominence as a gay rights activist after being thrown out of his family home for coming out. In 2009, he was named Nottinghamshire's young person of the year for his work visiting schools and colleges nationwide, and running workshops to counter homophobic bullying. His sexuality was not an issue during his campaign to be elected a councillor, which pleased him.