The Washington Post has published a piece about the current state the US military finds itself in, several months before the anticipated repeal of DADT.  The article notes that attitudes have already shifted and are in a strange sort of limbo. To illustrate the point, notes the experience of a young solider stationed in Baghdad whose superiors recently discovered was gay.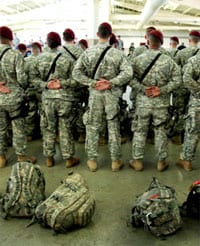 The Post reports:
 "The soldier's command opened an investigation into the charge, and he quickly retained a lawyer. Then, nothing happened. His platoon sergeant told him that his command was going to 'stick the investigation in a manila envelope and put the envelope in a desk,' recalled the soldier, whose name is being withheld at his request."
"The only change he noticed was that his platoon sergeant, once prone to shouting out a derogatory term for gay men, cut back his usage. 'And when he does say it," the soldier noted, "he'll give me a look like he is sorry.'"
"The soldier's case reflects the subtle, but significant, changes taking place throughout the military even before the expected repeal of 'don't ask, don't tell.' Although it seems unlikely that changes to the policy will go into effect before next year, front-line troops, their commanders and others are already preparing themselves for the law's demise."
Things haven't been easy for the gay men and women serving in the armed services. More form the Post:
"For some gay soldiers, the current debate surrounding "don't ask, don't tell" has proved tough to manage emotionally. The Servicemembers Legal Defense Network, which provides legal representation to gay members of the military, said it has seen a spike in calls to its hotline in recent months. Troops, the group says, are seeking legal advice and a forum to vent frustration."