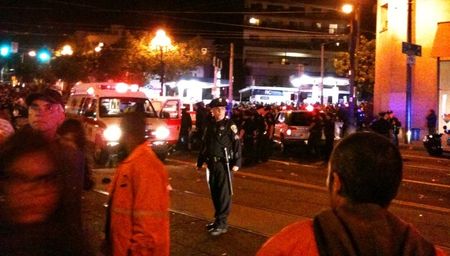 The shooting happened during San Francisco's "Pink Saturday" festivities in The Castro last night. What a way for some loony to ruin San Francisco's 40th anniversary Pride celebrations.
The Bay City News reports:
One man sustained life-threatening injuries and two others were wounded in a shooting in the Castro late last night during Pink Saturday celebrations, a San Francisco police spokesman said. Police responded to reports of multiple gunshots fired at Market and Castro streets about 11:30 p.m., San Francisco police Officer Samson Chan said.

Officers took the suspect, a 19-year-old male, into custody and recovered the handgun allegedly used in the shooting. The most-seriously injured victim, a 19-year-old male, was shot in the torso and transported to a local hospital, he said.

Also injured were a 19-year-old female and a 27-year-old male, who were each shot in the leg. They were transported to a local hospital with non-life threatening injuries, Chan said. The investigation is ongoing and police are still on the scene collecting information, Chan said.
The local Fox affiliate is reporting that the shooting reportedly occurred in front of The Cafe.
There's some raw video of The Castro post-shooting here.
Update: Sadly, the 19-year victim has succumbed to his wounds.