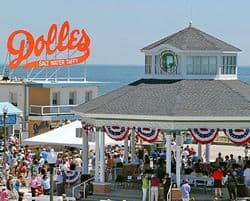 Several transgendered women, who are in the process of becoming women, removed their tops while sunbathing at Rehoboth Beach in Delaware last weekend. Someone complained and they were approached by law enforcement who asked them to cover up their exposed breasts.
WBOC spoke to the Captain Kent Buckson of Rehoboth Beach Patrol about the incident. The news station reports:
"The visitors initially refused to cover up, claiming discrimination, but eventually agreed to comply, Buckson said. The people involved had either transitioned or were in the process of transitioning to become female and some had breast implants, Buckson said."
 
"Rehoboth Beach Police Chief Keith Banks said the city already has laws regulating which parts of the body generally need to be covered in public but said it is a gray area when it comes to transgender people."
 
"Banks said no one received a citation for the incident and said he did not believe his officers actually contacted those involved, though he admitted that he had not yet spoken to responding officers about the complaint."
But, as The Washington Post notes, "Since they have male genitalia, they can't be charged with indecent exposure for showing their breasts."
Watch a short news report about the incident from ABC Action News AFTER THE JUMP.