The U.S. has discovered nearly $1 trillion in lithium deposits in Afghanistan, a find that could be key to solving many of the nation's problems: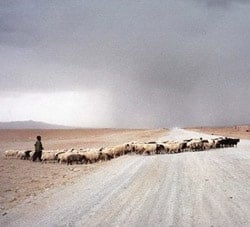 "The previously unknown deposits — including huge veins of iron, copper, cobalt, gold and critical industrial metals like lithium — are so big and include so many minerals that are essential to modern industry that Afghanistan could eventually be transformed into one of the most important mining centers in the world, the United States officials believe.
An internal Pentagon memo, for example, states that Afghanistan could become the 'Saudi Arabia of lithium,' a key raw material in the manufacture of batteries for laptops and BlackBerrys."
And/or creating new ones:
"Instead of bringing peace, the newfound mineral wealth could lead the Taliban to battle even more fiercely to regain control of the country.
The corruption that is already rampant in the Karzai government could also be amplified by the new wealth, particularly if a handful of well-connected oligarchs, some with personal ties to the president, gain control of the resources. Just last year, Afghanistan's minister of mines was accused by American officials of accepting a $30 million bribe to award China the rights to develop its copper mine. The minister has since been replaced."
UPDATE: The Huffington Post notes that the U.S. has known about the mineral deposits for some time, a detail overlooked in the NYT article:
"Why the story broke in the NYT on Sunday could be linked to a desire by the Pentagon to create a reason why US troops might want to stick around in Afghanistan for some time to come. Things are not going very well on the ground and the promise of vast mineral riches would sound enticing."