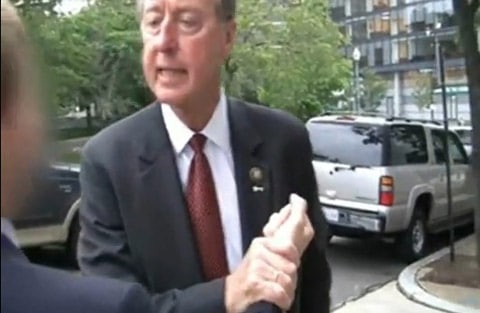 UPDATED
Rep. Bob Etheridge (D-NC) was filmed grabbing an ambush interviewer on a D.C. sidewalk last week. The video is going to raise plenty of questions, if not a police investigation.
Blog Big Government writes: 
"Last week, Democrat Congressman Bob Etheridge (D-NC) attended a fundraiser headlined by Speaker Nancy Pelosi. He was asked by some students on the street whether he supported the 'Obama Agenda.' He didn't take it well…"
"Now, Etheridge's actions are only partially defensible. He need not have gotten physical with the students who asked him the provocative question regarding his support of the 'Obama Agenda' (honestly, that sort of opening question is straight from the Jason Mattera school of inflammatory interview techniques.)But little is known about these 'students.' The YouTube video is published under an account titled TonyManization, and even more damning is that the faces of the individuals asking the Congressman questions are blurred out. Hmmm…nothing like the courage of the anonymous protester."
Pam Spaulding: "Etheridge needs to be arrested."
I'd be interested in seeing the full, uncut version of events.
Watch, AFTER THE JUMP…
UPDATE: Etheridge apologizes. "I have seen the video posted on several blogs. I deeply and profoundly regret my reaction and I apologize to all involved. Throughout my many years of service to the people of North Carolina, I have always tried to treat people from all viewpoints with respect. No matter how intrusive and partisan our politics can become, this does not justify a poor response. I have and I will always work to promote a civil public discourse."