THE YEAR IN SCREEN HOTTIES (thus far)
Jan: Michael Fassbender's lithe dangerously sexy shirtlessness causes a teenager heaps of trouble in the Brit coming of age drama Fish Tank. James McAvoy loses his (screen) virginity in the Oscar holdover The Last Station. Paul Bettany proves how good Jennifer Connelly has it with that hard angelic body in Legion.



Feb: Tahar Rahim chooses life of crime in Oscar nominated A Prophet, inspires criminal thoughts in others. Channing Tatum gets in and out of military uniform in Dear John. Niche hotness: Leonardo DiCaprio takes cold showers with plentiful angst in Shutter Island (only for those with a weakness for wounded bird types. You know who you are.)
Mar: Eternally handsome Hollywood icon Jeff Bridges finally wins the Oscar. Repo Men is terrible but at least you get Jude Law in rough trade mode. Niche hotness, animated: Gerard Butler voiced "Stoic the Vast" in How To Train Your Dragon, a must for ginger bears and their fans. Bonus points for being the only good movie Gerard Butler ever starred in!



Apr: Mark Wahlberg gives his first all-shirtless performance since the old timey Funky Bunch days in Date Night. Aaron Johnson aims for stardom with Kick-Ass, inspiring hilarious internet confessions. Benjamin Bratt goes for muscles and tats as an ex-con in the gay themed La Mission (review). Sam Worthington asks you to look up his skirt in 3D in Clash of the Titans. He stole that jump/flash/stab move from Brad Pitt in Troy but if you're going to steal from somebody, there are worse screen gods to emulate.
May: The Gyllenhaal finally returns to us in Prince of Persia but only takes his shirt off once. Seriously, why those grueling workouts if you're just going to deny us? Common makes Queen Latifah swoon in Just Wright. Other queens too, we're guessing. Hrithik Roshan goes on the run in Kites, stopping only to pose for your muscle worshipping enjoyment (review). Sex and the City 2 actually has the stones to name a character 'Dick Spirt'. To make the joke even dirtier, Max Ryan plays him.  Max Minghella in chains! Not literally but he does play a slave boy in Agora. Niche hotness, geek division: Jay Baruchel plays the reincarnated Trotsky… really funny movie.

June: Metrosexual Ken steals Toy Story 3. Bradley Cooper plays "Face" for the A-Team, brings "Body" with him. Can you blame Tilda Swinton for getting sexed up by Italian Edoardo Gabbriellini in I Am Love. The man cooks, too.
Which man got you hot in movie theaters this year? Are you seeing a movie over the holiday weekend?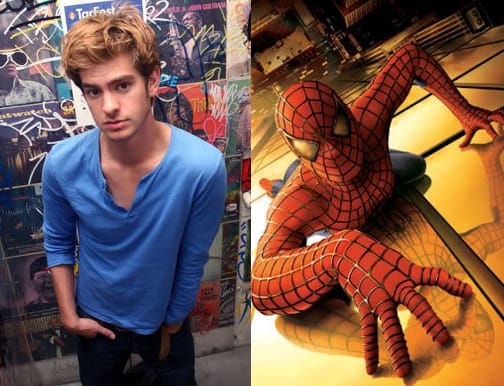 NATHANIEL ROGERS
…prefers air conditioned movie theaters to hot beaches in the summer. He blogs daily at the Film Experience.

The Big News
The wait is over. You can breathe easier now. Not that you were waiting personally but, you know, the internet does care about such things. Andrew Garfield was officially cast as the next Peter Parker / Spider-Man last night. The twenty-six year old actor will be web-slinging on the big screen exactly 2 years and 1 day from now. Or exactly 10 years and 2 months after Tobey Maguire did the same at roughly the same age. Even though this "reboot" is totally unneccessary (at least wait a full generation!) we wish them luck. The new director Marc Webb already proved he could do romantic/funny/sparkling/smartass with (500) Days of Summer, all of which could come in handy here. And Andrew Garfield is a good actor. He had zero trouble keeping up with Heath Ledger in The Imaginarium of Dr Parnassus and you'll see him twice this fall as Keira Knightley's love interest in Never Let Me Go and playing opposite Justin Timberlake and Jesse Eisenberg in The Social Network . There are several reasons to think Garfield is a good choice and that the movie might not feel as useless as it is. Yay?!?
New in Theaters
The holiday releases are uniformly weak. LOVE RANCH has a great sounding premise (Helen Mirren runs a whorehouse!) but it just doesn't translate to a satisfying movie. THE LAST AIRBENDER is winning atrocious reviews. And surely nobody pays for any new TWILIGHT movie because they think they're good, do they? Wait, don't answer that. I can't deal.
It's better to think the girls and the gays are going for dirrty Team Jacob vs. Team Edward reasons. 
So in honor of those Twilight boymen… 2010 Screen Hotties, AFTER THE JUMP…