Joshua Buscher (pictured at left) was money in the show's "The Bank" number, featuring a rapidly disappearing gold suit by Brian Hemesath and Jared Leese. He agrees that Broadway Bares is not a place for performers unwilling to go the extra mile.
"I've been involved since January," says the second-time Broadway Bares star, "selling raffle tickets at other events, doing promotional photo shoots and doing the big show…Last year, Broadway Bares 19.0: Click-It was my first experience in this madness that is Broadway Bares. Comparing this year with last, well, I can't; it's like apples and oranges. Last year, it was a whirlwind of craziness. I had no idea what I was getting into."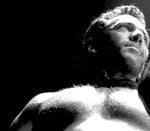 Sebastian La Cause (pictured at left), famous for the title role in 2000's The Rocky Horror Show, was lured back by Michael Graziano of BC/EFA, who persuaded him to recreate his legendary "Space Cowboy" peel-off as a part of Broadway Bares: Classic at Splash Bar, a series of solo performances leading up to Broadway Bares. He was also asked to appear onstage for the final bows of Strip-Opoly (which attracted past participants like Cheyenne Jackson, Nick Adams and Charles Busch), but offered to do more.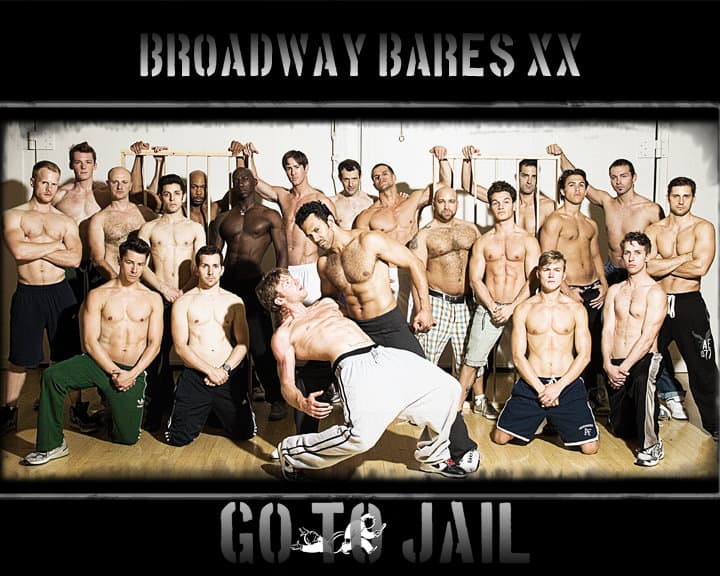 La Cause (center, dipping DesChamps) and his "Go To Jail"-mates
"They were bringing back some celebrities and favorite strips of the past to celebrate some of the best moments from the past twenty years," he says. "How could I pass up a chance to be celebrated, so of course I said yes. But I figured, if I was going to do all this work and get in shape for the show at Splash and be a part of the finale, well then I wanted to also be in a number." His stint as the warden in "Go To Jail" opposite jailbird Kyle DesChamps (Billy Elliott) was one of the sexiest highlights of an already sexy night.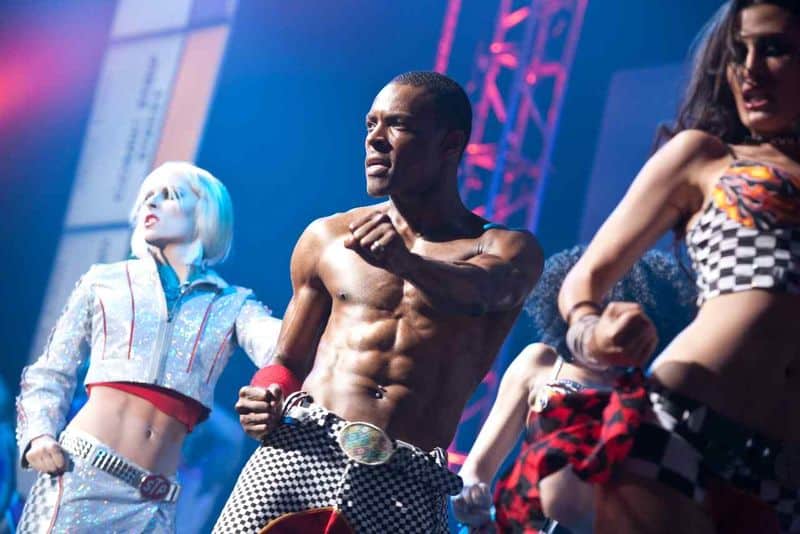 Dancing for dollars. Photo by MurphyMade.com
"Not only can you give of yourself—your time, your talent—to a cause that helps people and saves lives, but it can also bring attention to a performer, a choreographer, a costume designer or a director," La Cause continues. "It's a win for everyone involved."
La Cause's reaction speaks to the fact that the rewards are not strictly altruistic; you might be surprised to learn this, but Broadway dancers do enjoy attention.
"Once we got on stage, it was like being a rockstar—the audience went crazy!" Carroll recalls.
Broadway Bares is known for attention-getting antics, and this year's "Waterworks" number—fronted by five-year vet Matt Skrincosky—is the perfect example of the show's ability to go far, but never too. Did I mention it was about water sports? And that the audience was hosed down with water? And yet thanks to its tone, it probably wouldn't have any walk-outs even if it were part of a Saturday matinee on the Great White Way.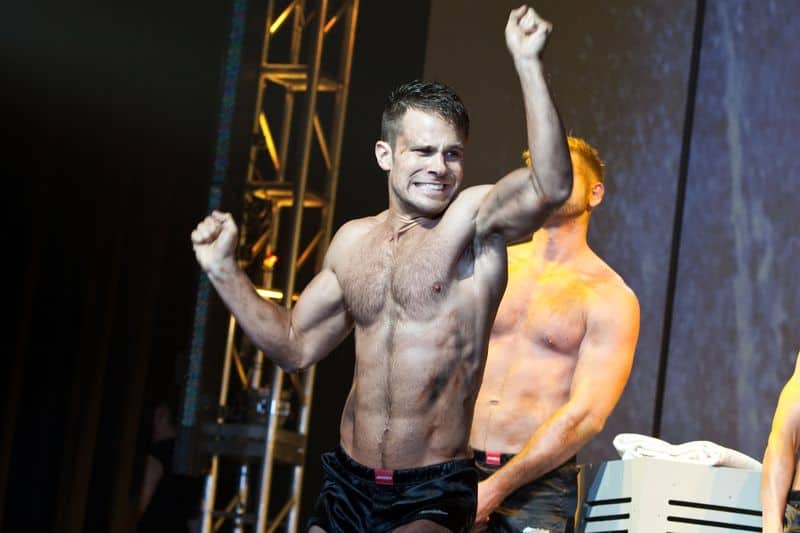 Skrincosky during rehearsal, finding the balance between "hot" and "ha-ha." Photo by MurphyMade.com
"It definitely was the most taboo number," Skrincosky allows. "We didn't want to offend anyone. We wanted the number to be joyful and funny. The idea came from Jerry Mitchell. I was told by him it was his idea to have a 'golden shower' number in the show. My reaction was one of a bit of concern at first. I was thrilled, relieved, amazed, overjoyed about the overwhelmingly awesome response the number received."
The way it was put together is an insight into how all the complicated numbers were born.
"We had three four-hour rehearsals," Skrincosky says. "Our first rehearsal was spent setting the mood…Our second rehearsal was spent on my castmate's roof deck playing with the water pumps that squirted the water. We figured out the movement of the water streams to make it as funny as possible. Our third rehearsal was spent putting it all together in the 42nd Street studios. Then a dry run (pun intended) with the whole Bares company without water that Friday and Saturday."
In the end, nobody seemed too pissed off by the number; in fact, it was greeted with thunderous applause.
Sometimes the rockstar adulation and the show's daring quality can lead to snags. La Cause says things behind-the-scenes were "a little touch and go there for a moment," and Mitchell says that backstage was "chaos" because, "The kids were making out before the show. I had to separate them." A reality show seems to be in order for 2011, I would suggest.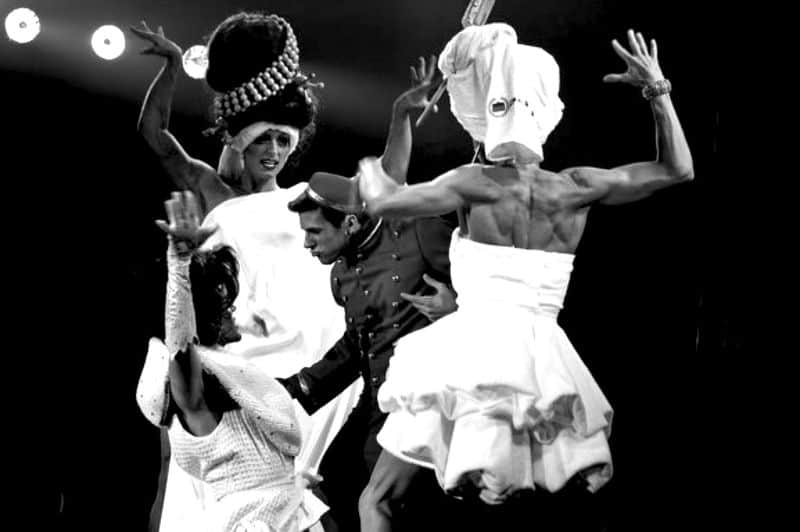 These guests kept Williams bellhoppin' in their "Hotel" number. Photo by MurphyMade.com
And near-nudity isn't always second nature for even these showbiz pros. Charlie Williams, currently seen in the Tony Award-winning Memphis and this year's Broadway Bares posterboy, says, "Being naked onstage was definitely a new experience for me. But knowing that we were all there to support a great cause and have fun really helped me find confidence in being so…exposed."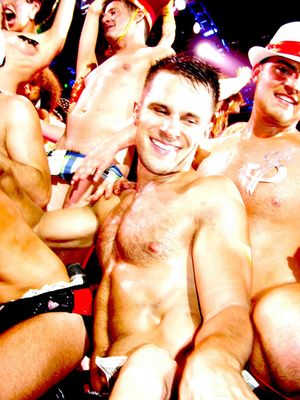 And speaking of exposure, there's "Rotation", which comes at the end of the show and finds most of the performers writhing on the stage and accepting money in their waistbands. I wondered if this madhouse ever went too far for some performers. Cameras are banned but the rule is simply never enforced, so "Rotation" sometimes feels like those 1950s private beefcake-modeling sessions must have felt.
"The aftermath of the pictures and videos that now roam the Internet bring me down from Cloud Nine," Buscher admits. "Seeing it out of the context of the show is a little jarring, to not only me but my poor mother who has texted me every day saying, 'You were that naked?'" But he isn't bothered by grabby "Rotation" enthusiasts. "There's always those 'too aggressive' few that feel we can be touched in certain areas, but beyond that it's fun. And when you see the money that people are willing to give, it makes it worth it."
Speaking of which, how much do some of the more recognizable and/or desirable dancers rake in?
"Let me tell you," Skrincosky notes, "my undies were FULL. I had to unload twice both shows. I think I had a few paper cuts, too."
"'Madhouse' is the perfect word," Carroll observes affectionately. "'Rotation' is not only a huge moneymaker for the organization, it gives a chance for the audience to become part of the show…Rotation is great in that it gives you the chance to make connections with the audience on a more one-on-one basis. You hear the thank-yous, you see the smiles. It makes it all more real and personal."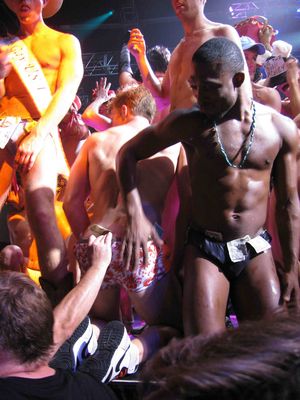 "I was cheered for by a concert hall full of people…who doesn't want to experience that?" Buscher adds. "The audience reaction is what a performer lives for. But way beyond the selfish, when you take a step back out of the spotlight and realize we raised over one million dollars for this amazing organization that helps so many people, there's no question why we do this. When the show is over and the fame wears off, you were a part of an amazing night where the Broadway community came together and accomplished something great."
I couldn't find anyone burned out on Bares, meaning it's likely to continue for as long as it's needed.
"I wouldn't drop my drawers for anybody else!" Carroll says, in what one hopes is an overstatement. "I'll be happy to do Broadway Bares again if they'll have me back," Williams says, and La Cause learned by finding himself back onstage after a nine-year gap to "never say never." Buscher says he's in it for "as long as they'll have me…or until I let myself go!" and Skrincosky sums up the entire annual event with a cheerful, "Yes. See you next year!"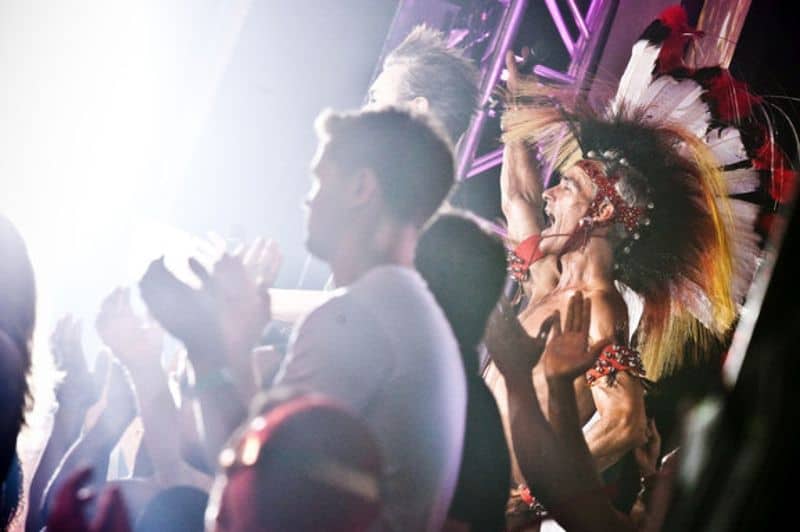 Mitchell's triumphant entrance at show's close. Photo by MurphyMade.com
And what of Mitchell, whose naked baby this whole event is? He showed up in his revealing Native American outfit from The Will Rogers Follies this year, two decades after appearing in it on Broadway. Will he do the same in another 20 years?
"Hell no!" laughs the father of Broadway Bares. "…But I kinda like being a daddy."
Videos here. Donate to Broadway Cares/Equity Fights AIDS here.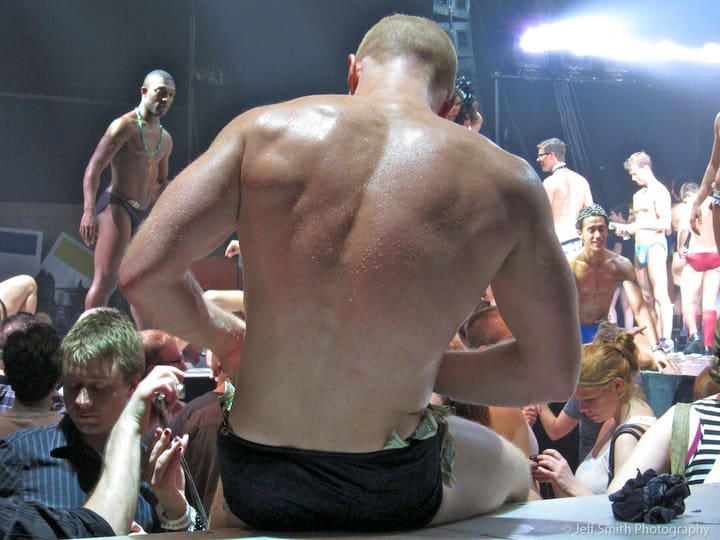 Broadway hasn't turned its back on the continuing AIDS crisis. Photo by Jeff Smith
Broadway Bares is a 20-year tradition here in New York, one that's raked in over $7.5 million to benefit Broadway Cares/Equity Fights AIDS. This year alone the one-night-only spectacle—made up of Broadway's best dancers and a few of its favorite stars sizzling through burlesque numbers that leave many of them an errant sneeze away from nudity—broke its own record, collecting $1,015,985 for the charity. I went and reported on it extensively here.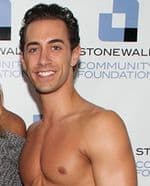 The brainchild of famed choreographer Jerry Mitchell, Broadway Bares has expanded to include pieces by 15 choreographers and over 200 performers. If you've never been, it's an epic production, one put together quickly but with as much passion as a musical with millions of dollars invested toward its success. Dancer Reed Kelly (pictured, photo by Tristan Fuge), known to many as Clay Aiken's boyfriend, was this year's top earner, raising over $40,000 in donations. "It was truly an honor to be a part of such a wonderful experience," he told me. "I am humbled." This is the attitude I encountered from all the lead dancers I approached—despite the grueling rehearsal schedule for no pay, Broadway Bares obviously offers a sense of community, both among the performers and the audience.
"Each year Bares is better than the last," Mitchell told me. "I truly believe that's because we have a crowd that wants us to succeed."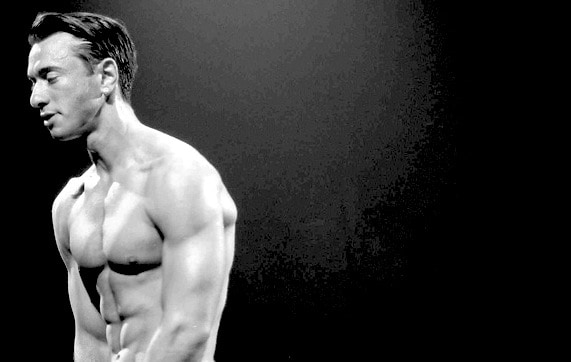 Carroll's take on The Situation—better-looking, better abs, will dance for money.
Broadway Bares XX: Strip-Opoly, held June 20 at the Roseland, parodied every capitalist's favorite board game, Monopoly, featuring take-offs on its familiar game pieces (and there were plenty of pieces at the Roseland that night) and properties. One of the most memorable was "Boardwalk," featuring John Carroll as Jersey Shore's The Situation opposite Jennifer Cody as Snooki. Carroll, in the show for a second year, confirms that everyone involved is doing more than just showing up and stripping down.
"Though the show is in June, the creative team starts their process in November. Once the theme is chosen, the director and the choreographers come up with different ideas to fit the overall theme. Lorin Latarro choreographed my 'Boardwalk' number and definitely brought her 'A' game," he says. "I have to admit, when I first heard I was going to be The Situation, I didn't know what to expect. It sure wasn't a stand-and-model number."