James Franco to teach "very special class" at Yale.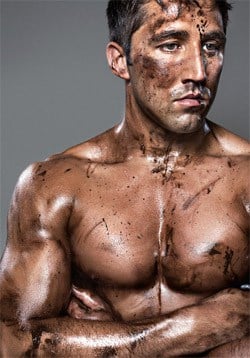 More grimy Gavin Henson.

TAB: The mother of Cristiano Ronaldo's son is a broke American waitress he paid off to the tune of $15 million.

Ditched Tory election ads depicted people "coming out" as conservatives: "One of the suppressed films that have now emerged shows naked men grappling in a shower, while another depicts a teenager being caught reading what at first appears to be a top shelf magazine. The third unshown ad makes light of teenage sex, portraying a girl confessing to her parents: 'I am three months Conservative.'"

These photos are for those of you who can't get enough of Jon Hamm in formalwear.

Network executive's advice on Bristol Palin – Levi Johnston reality show: "Don't think we should do it. Neither of them have personalities."

Constance McMillen leads San Diego's Pride parade.

18-year-old pop stars are now getting Botox. Claim: it was medical…

The resurrected A&F Quarterly contains more male nudity than female nudity: the rundown.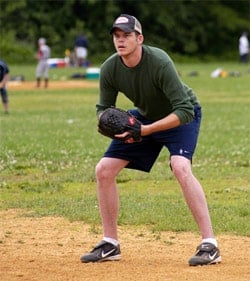 A straight softball player talks about life on a gay team.

Gay porn actor Jason Andrews and lingerie shop owner bludgeoned tattoo artist to death with sledgehammer in Florida: "'I'm so glad you're really committed to this take. Keep eyes for a knife, etc for me!' Andrews typed on his BlackBerry hours before the slaying, according to a transcript of the messages included in court records.
Logue replied in a nearly incomprehensible text that she was excited – and she wanted to have sex after they killed him."

Jersey Shore cast on strike, demanding more money.

In General James T. Conway's Onion-infused dreams: "Our men need to know they can count on each other in battle, and we can't have them getting distracted by illicit romantic dalliances. Especially if one's a little blond Adonis farm boy and his buddy's a real tough street kid straight out of Brooklyn. I mean, think about it: What if they lock eyes and abandon their post to start ripping each other's fatigues off, revealing twin sets of glistening washboard abs and at last fulfilling their hidden passions?"

Hundreds flock to The Netherlands for "Pink Monday".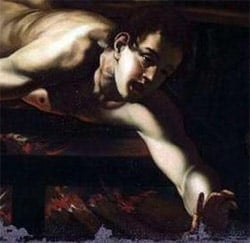 New Caravaggio discovered?

Gay Menudo member Angelo Garcia: Ricky Martin taught me to swim.

Gay Games Cleveland management in turmoil.

The Daily Beast examines the scene from The Kids Are All Right where the lesbians get off on gay porn: "A few lesbians I spoke to suggested that the members of the tribe who watch gay porn are in fact getting off on a fantasy, in which the man is subjugated and used in the way women frequently are.
As Jen, another gay porn-loving lesbian, put it: 'It's a surrendering of male privilege. It throws a monkey wrench into the idea that women are receptacles.'
Clinton put it even more bluntly.
'It's about power dynamics,' she said. 'We're so used to watching men in our lives wield power. Gay porn is an opportunity to watch them get f—–.'"