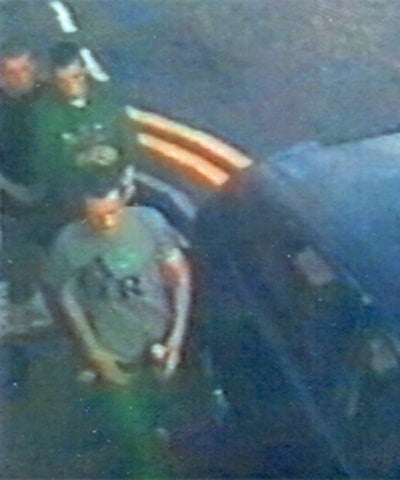 Merseyside police this week released CCTV images of three teens thought to be responsible for a June 21 attack by a group of seven teens on a man in Bootle, north of Liverpool:
"The victim, a 27-year-old man, was with three friends standing outside the shop at around 9pm when he was verbally abused by a group of seven men, who were drinking alcohol.
One of the group then also punched him in the face.
The victim was taken to hospital where he received treatment for a fractured jaw.
The main offender is described as white, 5ft 8in tall and aged around 16 or 17 years old. He has short dark hair with a metal train track style brace on his teeth.
DC Peter Tynan, from the Sigma Hate Crime Unit, said: 'The Force is committed to making Merseyside a safe place for all regardless of ethnic origin, gender, age, disability, sexual orientation, religion or belief and to the belief that everyone has the right to be treated with fairness, dignity and respect.  Those who carry out hate crimes targeting people because of their difference should be left in no doubt that their behaviour will not be tolerated and that robust action will be taken to ensure they are arrested and prosecuted for their actions.  We ask anyone with any information about this unprovoked attack to come forward so we can bring the offenders to justice.'"
 In related news, a vigil is scheduled in Liverpool to remember Michael Causer, the victim of a fatal homophobic attack in August 2008:
"The vigil take place ahead of the first Liverpool Pride and will mark the unveiling of The Michael Causer Foundation, a group that seeks to assist vulnerable queer youth. A range of speakers belonging to Merseyside's lesbian, gay, bisexual and transgender community will speak at the vigil, including two of Causer's friends."