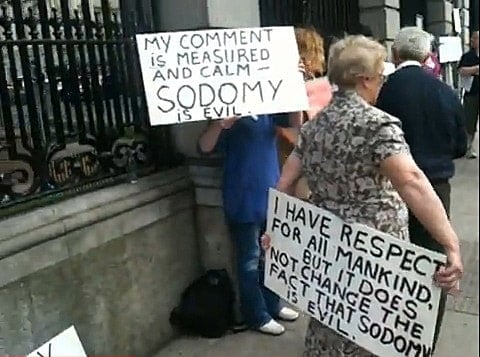 As a small clutch of protesters picketed and shouted outside the gates, Ireland's Dáil yesterday passed a civil partnership bill, the Irish Times reports: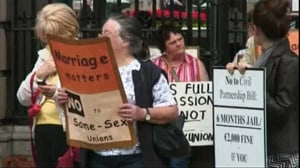 "The Bill recognising the civil partnership of same-sex couples passed all stages in the Dáil tonight without a vote.Minister for Justice Dermot Ahern said the Civil Partnership Bill would put in place a legal regime that reflected the many forms of relationships in modern Irish society."Our society has change substantially in recent decades,'' he said. "While marriage is more popular than ever, other forms of relationships have become increasingly common; they create some difficulties in the legal system and require in our law a measure of recognition and of protection."Fianna Fáil Tipperary South TD Mattie McGrath spoke against the Bill, claiming it had far-reaching consequences for over 120,000 cohabiting couples who would find themselves in a legal web not of their own making.There was a protest outside Leinster House against the legislation.When the debate was concluded inside, however, there was applause from people in the public gallery."
The Irish Council of Civil Liberties applauded the bill's passage but encouraged the government to work toward civil marriage for all: 
"ICCL director Mark Kelly said the Bill would offer a 'solid foundation' for the recognition and protection of same-sex relationships which were previously denied to them. However, he described the legislation as 'only a stepping stone on the path to full equality for same-sex couples'.Calling for full civil marriage rights to be extended to same-sex couples, Mr Kelly called on the Oireachtas to 'fully embrace' the principles that underpin the Bill and to 'urgently work' towards 'opening up civil marriage for all'.The Gay and Lesbian Equality Network (Glen) last night welcomed the progress of the Bill through the Dáil as a 'historic advance' and a further stepping stone towards full equality. Glen spokesman Brian Sheehan pointed out while the legislation was important, there were still key omissions. For example, it did not provide any right for same-sex couples with children to be legally recognised as joint parents, he said."
A short video of what Ireland's version of the Westboro Baptist Church looks like,
AFTER THE JUMP…