Last month, I posted about the attack on a gay couple in Vancouver by two men they found urinating against their townhouse. Those two men have now been arrested: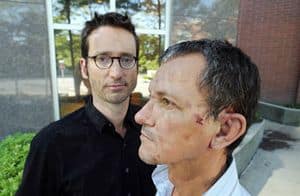 "Two brothers have been arrested in connection with an attack on a gay couple in downtown Vancouver on June 12.
Vancouver police Const. Jana McGuinness announced the arrests at a press conference this afternoon, as well as details of an overnight assault also being investigated as a hate crime.
Parminder Singh Peter Bassi, 30, is charged with two counts of assault causing bodily harm and his 27-year-old brother Ravinder Robbie Bassi is charged with one count of assault causing bodily harm.
The Richmond brothers were arrested at their home on Wednesday in connection with the beating of David Holtzman and his partner Peter Regier.
They have since been released from custody on court-imposed conditions, and will make their next court appearance on July 5."
In related news, there was yet another suspected hate crime in Vancouver that happened early yesterday morning:
"Two men are facing charges of aggravated assault for a violent attack on a gay man near the intersection of Davie and Burrard streets early Thursday morning.
According to police, a 30-year-old Vancouver man was walking along Davie Street with friends around 2:45 a.m. when he was verbally confronted by one of the alleged attackers.
Police say that he was then punched in the face and knocked to the ground. The blows continued as he lay on the ground, and a second man allegedly joined in.
'Disturbing comments' were allegedly made about the victim's sexuality during the attack, according to a police press release."